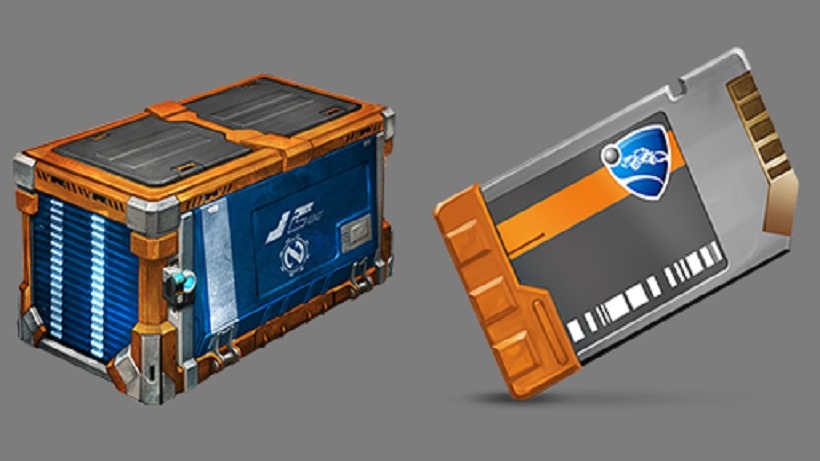 It looks like Rocket League is getting a drop system similar to the one found in Counter-Strike: Global Offensive. TheSgtPunishment made the discovery. He dug up some assets from the game's files, a crate and a key to be exact, which is a pretty solid indication of what's in store for the title. He took to Reddit to share his findings (via Destructoid).
Turns out Psyonix were only planning on making an announcement regarding the new system next month, closer to the Rocket League Championship Series finals. Seeing as the cat is out of the bag early though, they've decided to share some insight:
Crates will contain cosmetic content only. We have a strict "Don't Sell Advantage" policy for Rocket League, and we're sticking with that.
There will be no Steam Marketplace integration with crates. We are definitely aware of the problems related to third-party gambling in other games and we are not interested in taking that approach.
Players who don't want to interact with this system can hide it entirely with a single checkbox. Also of note, this won't affect or impact our current item-drop system in any way.
We also want to reassure you guys that we are sticking with our approach to keep introducing free new Arenas, Modes, and Items, along with the occasional paid DLC just like we always have.
That second point is very, very interesting. Psyonix are obviously trying to distance themselves from the recent CS:GO gambling drama. I wonder if they'll stick to that no Steam Marketplace integration forever? Regardless, with player-to-player trading in place, I don't think they can escape that shady side of gaming unfortunately, at least not completely.
Otherwise, I don't really see a problem with this crate system. If you're a fan of cosmetics, you can go ahead and cough up the cash as you please. If you're not, well, then turn it off (the option will be there), or just flat out ignore it.
Last Updated: July 12, 2016