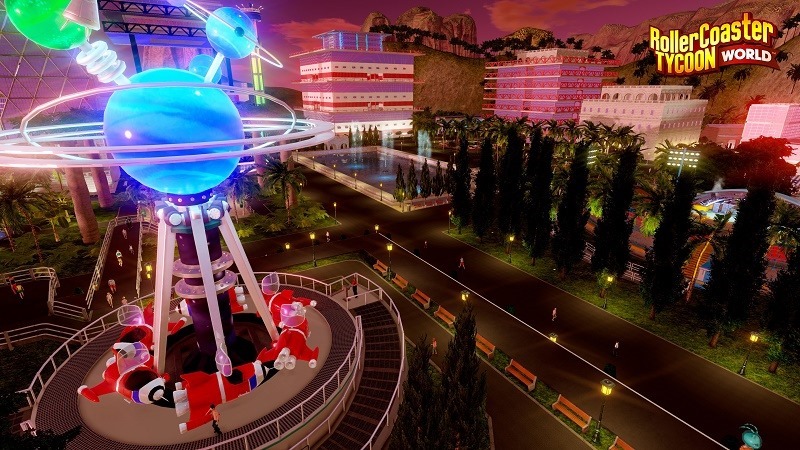 RollerCoaster Tycoon World has been in development for what feels like forever now. Seriously, the game was first announced back in 2014, and it had a pegged release date of early 2015. I don't know if you've been paying much attention, but we're nearly done with 2016 now, and the park simulator still isn't out! It will be though, and soon.
Fancy building a resort, filled with crazy custom rides and attractions? I'd suggest you keep next week open, because RollerCoaster Tycoon World finally has a release date (via PC Gamer):
The time is now! We are excited to announce the official release date for RollerCoaster Tycoon World: Wednesday, November 16th, ahead of the upcoming Holiday season. It's been a great ride and we can't wait to finally present the new and improved RCTW to you all! Our November 16th release will include all the new features we laid out in our last blog – a brand-new progression mode, new UI and main menu, refreshed peeps – along with tons of performance improvements and bug fixes
If you'd like to buy RollerCoaster Tycoon World, there are two versions available. The standard variant will cost you just R489, and the deluxe edition, R589.
RollerCoaster Tycoon World™ is the newest installment in the legendary RCT franchise. This next-generation theme park simulation and building game includes fan-favorite features and incredible new advancements such as stunning 3D environments full of roller coaster thrills, exciting flat rides, eager guests, user-generated content, robust social features, and more – all in one massively fun game!
Honestly, I had every intention of buying the game myself one day, but early feedback has made me very skeptical. On Steam at the moment, there are nearly 2000 negative reviews, compared to just 1000 that are positive. General consensus seems to be that RollerCoaster Tycoon World is a buggy mess.
All that criticism is based on the Early Access version though. Will the final retail edition set things straight? I sure hope so!
Last Updated: November 12, 2016