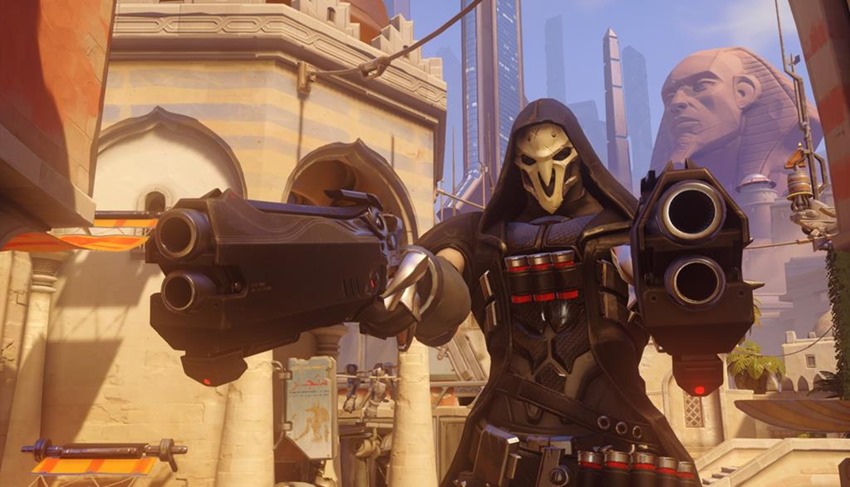 Can you believe that Overwatch is already three years old? In regular gaming circles, that's an eternity, whereas in Blizzard's patient development circles that's the equivalent of a game still being deep within the womb. With a trio of years under its belt, Overwatch has still been a benchmark in the industry, one that helped push the idea of hero shooters and live service games directly into the mainstream and beyond.
This week happens to be a BlizzCon weekend, and with the developer sorely in need of some goodwill and fan appreciation while still placating China's heavy and lucrative hand, a sequel with some new features may be just what the doctor ordered. Look, shiny new stuff! ALL IS FORGIVEN WE ARE A FICKLE LOT! Anyway, that's the word according to ESPN, who say that the sequel will include PvE features which BlizzCon attendees will be able to try out.
But wait, that's not all! There'll also be a new logo (duh), maps and a proper story mode to go along with those aforementioned PvE features. "Notably, the Overwatch logo now has a small orange '2' indexed in the top right corner," the ESPN report said.
Hero talents and in-game items are coming to Overwatch 2 PvE, and one of the missions will be a four-player story experience set in Rio de Janeiro, as opposed to the 6v6 gameplay in the original Overwatch. While much of the focus will be on story and narrative elements, Overwatch will see its first new mode since the game was released in beta in 2015, with 'Push' set to be unveiled alongside Assault, Control, Escort, Hybrid. Push will be set on a new map based in 'Toronto', according to the document.
Naturally, Blizzard is keeping mum when pressed for comments ahead of the November 1 debut of whatever it is that they have planned. Personally, I'd just be happy for a new Overwatch feature that sends electrical shocks directly to the nipples of anyone who decides to lone wolf away from the freakin' payload which I'm once against escorting all by my lonesome.
Last Updated: October 28, 2019