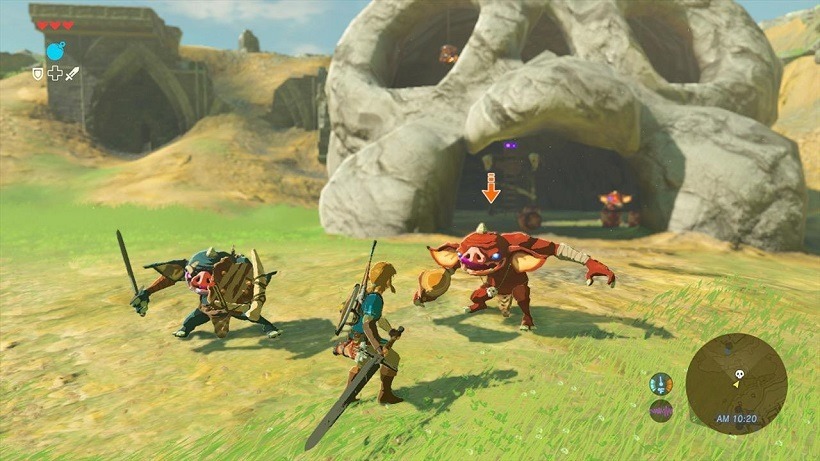 In the past, Nintendo has played their PR pretty close to the chest. Big gameplay reveals and new information was usually reserved for their livestreamed Direct conferences, so seeing a steady stream of gameplay for The Legend of Zelda: Breath of the Wild is kind of refreshing. Last week we got a brief look at the Temple of Time, and this week is all about the various Runes Link will have access to.
Runes that allow you to do a multitude of different things to enhance the game's open-world. The magnetic rune, for example, is paramount to treasure hunting. It lets you detect and call massive steel chests from the bottom of lakes, meaning you can keep your robes dry and stamina bar full instead. If water is keeping you from a distant island, another rune allows you to freeze blocks in a lake – letting you build a path to your objective with ease.
You can catch both (and more) in action below, courtesy of Nintendo Europe.
Runes certainly can come in handy! #Zelda https://t.co/amGSOdbcnB

— Nintendo of Europe (@NintendoEurope) 22 August 2016
The most interesting use of runes, however, is the last. Presumably gathered in the Temple of Time, one specific rune will allow you to freeze or slowdown time entirely. Aside from creating some devious puzzles, this rune lets you stack attacks on objects for explosive results. Just like Link does with an explosive barrel in the video above, which he sends flying through the air after time readjusts itself. Neat.
The Legends of Zelda: Breath of the Wild is supposedly out early next year, and is likely lined up as a launch title for the Nintendo NX. That could mean this gorgeous new adventure could be available on the go if recent NX reports are to be believed, with Nintendo aiming to formally reveal their new hardware sometime next month. Who else is looking forward to it?
Last Updated: August 23, 2016