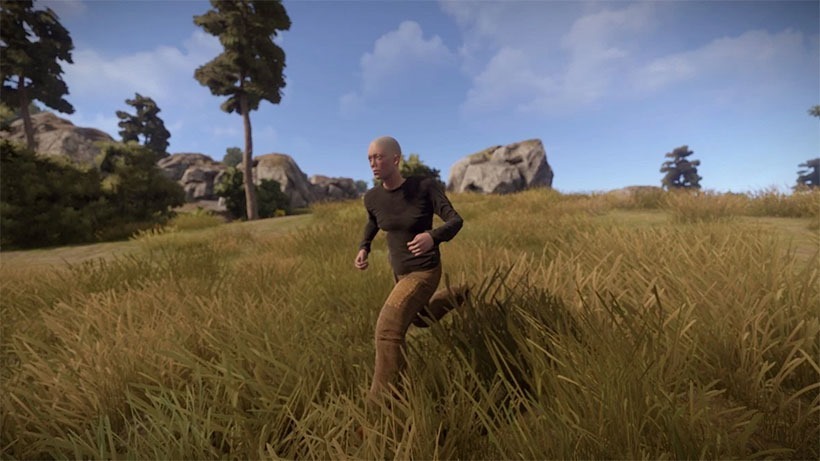 As a game, Rust isn't something I'm remotely interested in. I have neither the patience nor the fortitude for those sorts of survival games, and I tend to spend my time in games of those ilk punching trees and not really progressing very much at all.
As a social experiment, Rust – a game in which players spawn naked – is profoundly interesting. We've told you before how it has randomised penis sizes and race, both of which become tied to your Steam ID. You could be playing as a race you don't identify with. With a penis much smaller (or bigger!) than your own.
Last year, Facepunch Studios' Gary Newman said on the inclusion of female character models:
"We've started investigating a female model. We really don't want to make the female model unrealistic in the sense of her being aesthetically idealised. In the same way that our male models aren't perfect specimens of the male body, neither should the female be. No huge boobs nor four-inch waists here."
And now, that update is live. When you log in to Rust for the first time, you' could end up being a woman – with no way to change that.
"We understand this is a sore subject for a lot of people. We understand that you may now be a gender that you don't identify with in real-life," the latest blog update says. "We understand this causes you distress and makes you not want to play the game anymore. Technically nothing has changed, since half the population was already living with those feelings. The only difference is that whether you feel like this is now decided by your SteamID instead of your real life gender."
It's interesting, and it could have some people learn what sort of treatment people from other genders and races go through, if even in a virtual environment. As I've said before, it's clever and I'm not sure many white men realise how much the fact that they're the "default" in most games has an impact on their immersion. Or rather, that it has an impact on the immersion for those who aren't the default.
As a reminder, here's how Rust handled race:
Last Updated: April 8, 2016