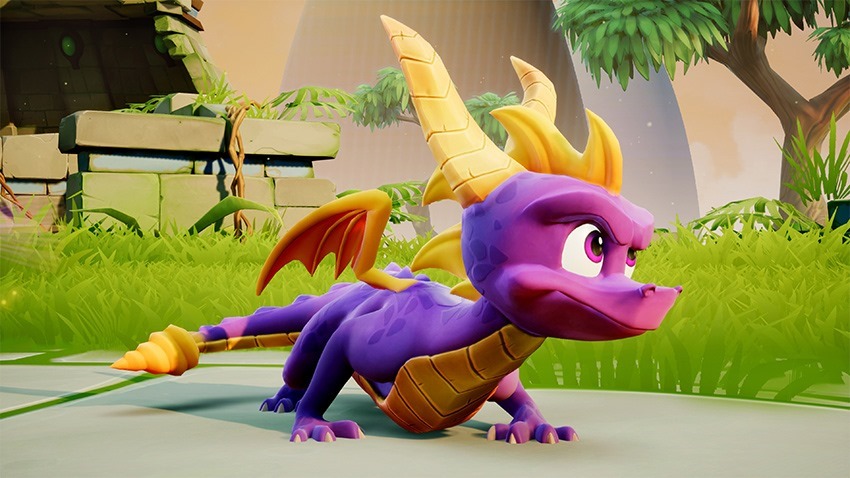 I'm not the biggest fan of the Spyro games. I was maybe a little too old already by the time the platforming adventures of the purple dragon debuted. What I can't knock though, is the wonderful soundtrack to the game that was composed by Stewart Copeland, the drummer for The Police.
The impending Spyro Reignited Trilogy not only remasters the visuals, but also remasters the music. As revealed at SDCC this year though, those who favour their nostalgia and want those old-school tunes can happily toggle soundtracks.
Beyond that though, Copeland is returning to create brand new music for the reignited trilogy.
"Creating new music for the Spyro Reignited Trilogy has been incredibly fun and nostalgic for me," he said. "Seeing how the fans loved the original series and soundtrack was a very heartwarming experience 20 years ago, and being able to revisit that fun with the new game has brought things full circle. I can't wait for players to hear the new intro title track and enjoy the option to play the remastered game to my original music when the trilogy arrives this fall. 'Tiger Train' includes some of my favorite themes from the original soundtrack, which I'm sure the Spyro faithful will appreciate!"
Speaking to us at E3, developer Toys for Bob said that the changes that they were making to the soundtrack would be subtle and nuanced.
"We wanted to preserve that Stewart Copeland soundtrack, but little tiny things like when you go into dash mode, will introduce a little bit of percussion just so that it feels like you're going faster and you get that sense of tempo. Really nuanced, but it's that attention to detail which I think is necessary for making a really good remaster."
That remaster is out on PlayStation 4 and Xbox One on September 21 – and if it's half as good as the Crash Bandicoot remaster, it'll be gold.
Last Updated: July 20, 2018