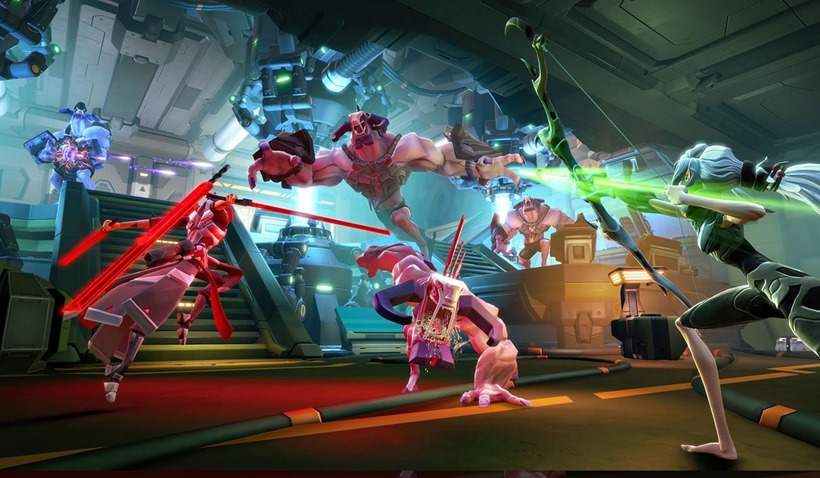 Who here remembers Battleborn? It's that game from Gearbox – the shooter with MOBA elements that's all about… shooting stuff, or something. Sound familiar? Don't worry if it doesn't, because even though I previewed the game myself a few months back (verdict: high potential, pretty meh), I've essentially forgotten about it too. If you've been keeping an eye on the game however, and been dying to try it out, good news: you may get your wish soon, because it's about to enter a closed technical test phase.
All you need in order to apply for participation is a ShiFT account. If you have one already, you should've received the following email over the weekend:
The team that brought you Borderlands has been hard at work creating the all-new hero shooter, releasing February 9, 2016, and a select group of gamers won't have to wait that long to play Battleborn. Soon, we will be conducting a closed technical test to balance characters, stress servers, squash bugs, and test the online infrastructure – and we need your help!

While we don't have an exact start date for the tests just yet, they will take place soon on PS4, XBOX ONE, and PC. If you're interested in helping us test out Battleborn and want to be one of the first people in the world to get their hands on this new breed of first-person shooters, you can register by going to http://rsvp.battleborn.com/.
No idea what ShiFT is? If you've played Borderlands 2 or the pre-sequel, you're more than likely a member. ShiFT is the system that was used to claim golden keys for those loot-filled chests in both game's central quest hubs.
If you aren't a member, I don't think there is anything stopping you from signing up right now. If you're keen on getting in on the Battleborn technical test, get your ShiFT account and then follow the RSVP link above.
I've signed up for Battleborn myself just so I can give the game a second chance. I really hope it is good, because by all means, a shooter with MOBA elements sounds like my sort of gaming paradise!
Last Updated: October 12, 2015