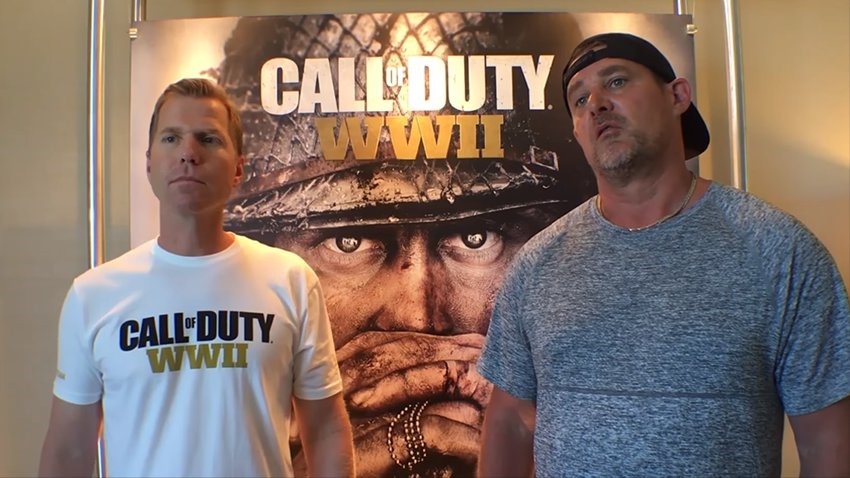 Glen Schofield and Michael Condrey are the heads of Sledgehammer Games, the studio they created after leaving EA and Visceral Games behind. For the last few years, they've been one of a trio of developers behind Call of Duty games at Activision – including last year's well-received Call of Duty: WWII and Advanced Warfare.
Well, I say "are," but it's all apparently past tense. Kotaku says they received reports that Schofield and Condrey had left Sledgehammer. They're now executives at Activision itself.
"Following the incredible success of Call of Duty: WWII, Glen Schofield and Michael Condrey have decided to transition from their duties at Sledgehammer Games to new executive duties inside Activision," Activision said in a statement.

"We thank Glen and Michael for their tremendous body of work on Call of Duty and look forward to continuing to collaborate with them in their new roles. These changes have created an opportunity to elevate one of the key leaders at the studio, Aaron Halon, to lead Sledgehammer Games. Aaron is a founding member of Sledgehammer Games and the natural fit to lead the team. He has over 20 years of industry experience and has played an instrumental role throughout the studio's history. We congratulate Aaron and are thrilled about the future of Sledgehammer Games, which we believe has even bigger days ahead."
It's quite a shakeup at Sledgehammer, but shouldn't affect the development of the company's next Call of Duty much. This year's Call of Duty is being developed by Treyarch, and could be Black Ops 4.
The trio of studios that make Call of Duty games are all immensely talented people, but I really wish they'd be afforded the opportunity to break out of the cycle and create new, different things. The reality of it is that Call of Duty continues to make ridiculous money every year, so there's no need for anything to change.
Last Updated: February 21, 2018