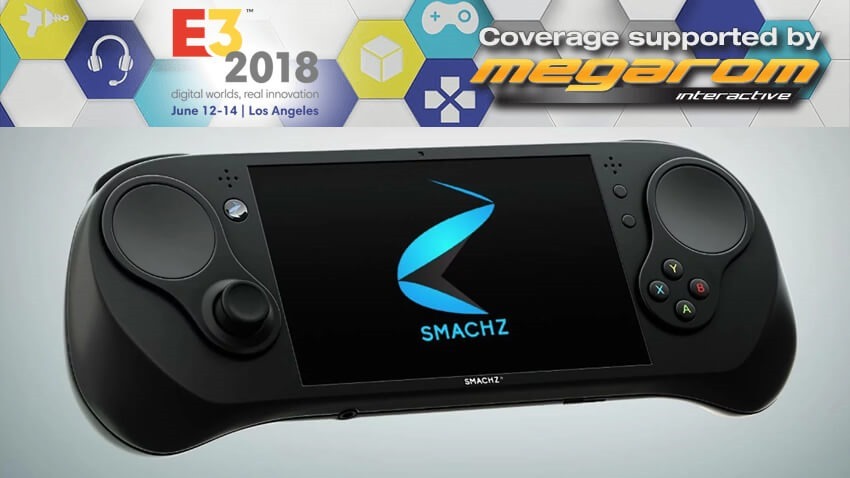 The Smach Z is an incredibly ambitious handheld PC that aims to bring Switch-like on-the-go gaming to those who favour PC gaming.
It's got an incredible set of specs stuffed into a mobile case, with the diminutive AMD Radeon Vega 8 Graphics and Ryzen Embedded V1000 Core processor running at 3.6 GHZ to give it its guts. With upgradeable M2 storage options along with standard upgradeable SO-DIMM DDR4 memory, it offers the chance to play contemporary PC games in a mobile form factor. Furthermore, the board itself can be removed and sent off to Smach Z to upgrade the embedded chips in the future.
When it does eventually ship, it'll come with a 6-inch 1080p touch screen, and feature Steam controller-styled haptic touch pads, which are modular – so you can remove them to replace with regular analogue sticks, d-pads, or other buttons. Along with the modular controls, there's a permanent left analogue stick, four face buttons, and 4 trigger buttons, along with an extra pair of buttons along the back of the case for squeeze controls.
With connectivity options aplenty including Wi-Fi, Bluetooth, USB A and C, an SD card slot and more, I was excited to get my hands on the device at E3. Disappointingly, the unit I did get to play with was effectively an empty shell, with content fed to it from an attached laptop. The moulded plastic was ill-fitting, felt cheap and nasty and just wasn't indicative of a finished product. The company did have a better mould on display that had better edging, a matte, rubberized finish that definitely feels better than the prototype I held in my hands. Said prototype wasn't even running the target specs for the machine. Instead, to get a feel for how it might run in the real world, I had to demo it on an open PC running on the same hardware that'll eventually be squeezed into the SmachZ. Admittedly, it did run quite nicely, and I was able to play games like GTA V and Fortnite on the machine at acceptable resolutions and frame rates.
For a device that hit it crowd-funding goals in 2016 and should be shipping soon, it was a little disappointing not to have something resembling a finished product to play with. The Smach Z team says they're still on track for a September release though – with a closer look at a close-to-final product to be shown at Gamescom.
As ambitious as it is, I think it's a tough sell at its starting price of $699 for a 64GB version with 4GB of RAM. The $899 pro model features a front-facing webcam, 128GB of storage and 8GB of RAM. That's a heck of a lot of money just to take PC gaming on the go, even if it does end up delivering on all of its promises. Still, there must be enough interest in it, given that it raised €474,530 in Kickstarter, and a further $748,007 on Indiegogo.
Here's a look at the specs:
CPU: AMD Ryzen™ V1605B SoC at 2.0 GHz base 3.6 GHz boost
Cores / Threads: 4/8
GPU: Radeon™ Vega 8 Graphics. 8 CU 1.1 GHz
RAM: Up to 16GB DDR4 2133 MHz. 4GB (SMACH Z) || 8GB (SMACH Z PRO)
Storage: Up to 256GB SSD. 64GB (SMACH Z) || 128GB (SMACH Z PRO)
Screen: 6" FULL HD (1920×1080) Capacitive touch-screen
Battery: 5 hours of gaming. (4 cells of 3200mAh each. 46WHr)
MicroSD Card Slot
USB 3.0 type C
USB-A
Micro-USB
Display Port video out
Wi-Fi connectivity 5.0 Ghz
Bluetooth connectivity.
Front-camera 5-megapixels (PRO model only)
Last Updated: June 20, 2018