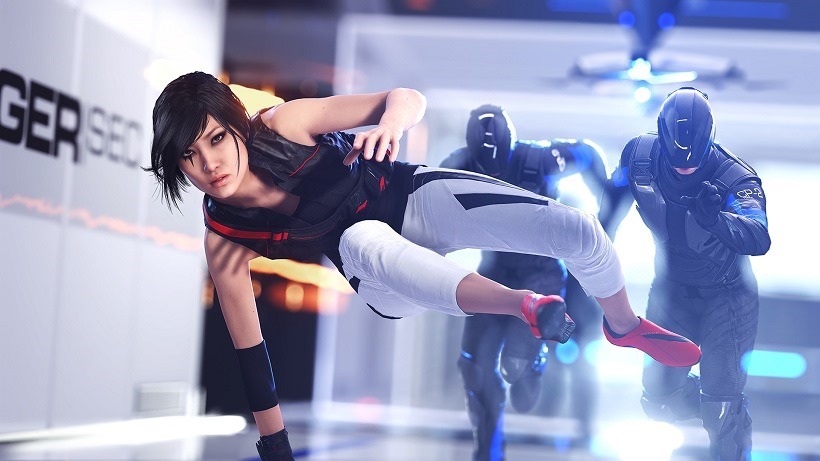 Mirror's Edge has managed to somehow maintain a cult following after EA saw little reason to keep it alive years ago, and it's that dedication that has allowed developers DICE to give this parkour inspired action game another chance. Catalyst is aiming to breathe the sort of life into the franchise that the first one lacked. A massive open-world, less sluggish combat to worry about and hopefully a story that makes a little more sense.
And in truth, it's looking a lot better already. With the closed beta incoming (yes, Mirror's Edge is having a beta too), many media got the chance to go hands-on with Faith's prequel. The opening minutes of Catalyst set the scene, with a rain soaked city becoming Faith playground for the night. And in motion, it's quite spectacular. Check out some of the footage that Polygon managed to capture.
It's helped a lot by a new type of Runner Vision, which aids you a little more in keeping on track and the momentum flowing. It also links up nicely with some of the hand to hand combat, which seeks to keep the pace high instead of bring things down to a crawl like the last title. All while the flat colour art direction maintains intact, and as gorgeous as ever.
Catalyst is still a month away, but the closed beta is kicking off next week. If you applied back before application closed in February, you could be getting an email soon for a chance to jump in early. The beta will feature some early story missions, side activities and tests for Catalyst's more social features – which EA has only vaguely detailed.
Either way, it's a good chance to get your bearings in Glass City before the game really gets up to speed in May. And I'm hoping Mirror's Edge is here to stay this time around.
Last Updated: April 15, 2016