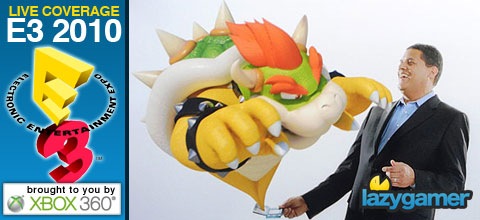 E3's over. Done and dusted! The big 3 console manufacturers put on their big E3 shows to ply you with their upcoming wares. There were many things shown – some incredible, some dull, and some, frankly baffling.
Let's take a quick recap of each in order, and see who – despite it not actually being a competition -  I think won E3 this year.
Microsoft
Last week, I assumed Microsoft wouldn't take the imaginary crown, purely because their focus was almost entirely with Kinect and the casual Wii audience. It6 started out well enough – A showing of Call of Duty : Black Ops and the announcement of a 3 year DLC arrangement, meaning extra content for the game would appear on Xbox 360 first. MGS: Rising was shown and looked amazing. Fable III got a ridiculously short trailer and a release date. Halo: Reach got it's campaign highlighted, and space combat revealed. Gears 3 got demoed with its new 4 player co-op, and predictably, looks pretty good.
From there on though, it slowed down – and became a long, and mostly boring Kinect showcase. Microsoft seemed to have forgotten that it was E3 – and their audience was comprised largely of game journalists and industry people. That same keynote would have had more effect for them were it a public showing. Kinect, on paper, was ostensibly the most impressive technology shown at E3, but the software lacked the "wow factor" to capitalise on it.
The show ended with Don Mattrick revealing the new 360, and then, Like a white, male Oprah giving one to every person in attendance. It wasn't a terribly keynote overall, but it was poorer than any of theirs have been in recent years.
Nintendo
Nintendo, surprisingly kicked of their conference with the reveal of their new, MotionPlus-controlled Zelda. This was expected to be the highlight of their event, but ended up being their poorest showing. The interference encountered by Miyamoto marred the demo somewhat and it plodded along, showing that essentially, It's more Zelda, just now with more accurate wiggle.
They showed Wii Party and Mario Sports Mix – leading to short-lived fears that Nintendo hadn't learned to appease the core yet. From there, it just became a banner showcase of Nintendo Franchises, with them giving Nintendo fans exactly what they've wanted all these years. They showed the new Golden Sun, followed by a reworked GoldenEye – THE first game to bring good multiplayer to consoles. From there on it was just a barrage of awesome.
Epic Mickey's sidescrolling levels look sublime, Shock surprises of a new Donkey Kong Country, New Kirby and finally, the new 3DS with a new Kid Icarus as a lunch title. How on earth did they keep these games secret for so long? The 3DS though, stole not only Nintendo's show, but largely E3 as well. Speak to anyone who was there, and the 3DS will almost certainly be the single thing they harp on about.
The 3DS's reveal was made better by the ridiculously long list of 3rd party publishers who're supporting the handheld marvel.Just about every publisher worth its salt is involved – and you'll be seeing games like Metal Gear Solid, Resident Evil, Ridge Racer and more, all in 3D, without any silly glasses necessary.
This year there was no Cammie Dunaway prattling on about sales figures, no silly pretend orchestras and no vitality sensor. It was just awesome games and awesome hardware – and a good time to be a Nintendo fan.
Sony
Sony's conference was a bit hit and miss. They unfortunately did prattle on too long about sales figures and market share. Their first party line-up is a little bit on the awesome side, with games like Killzone 3, LittleBigPlanet 2, InFamous 2 and MotorStorm 3 all shown, with Killzone 3 in 3D probably being the highlight. I'm not much of a fan of the series, but the third one – probably the best looking console game shown this year – is going to be fantastic. A smart partnering with EA has the PS3 getting exclusive content, which is nice for PS3 owners.
The Portal 2 announcement was a pretty big shock, and a nice surprise – although it doesn;t seem Gabe Newell was too happy to be there. The steamworks announcement could have some pretty big implications in the future. GT was trailered and given a release date – but it's surprising how little of the game was shown off, considering what an important title it is for Sony.
Their presentation on PS Move did at least mix up casual and core offerings, but the word "precision" was used far, far too many times – ironic when some of the demonstrations seemed to lack precision, particularly the Tiger Woods demo. Move was dated and priced, with confirmed bundles.
The Kevin butler bit was awesome, as expected, followed by Sony trying to punt 3D some more. Playstation Plus was announced, but hardly any real bulletpoint information given, making it a little difficult to remember what the $50 annual subscription is for.
David Jaffe's Twisted Metal got a reveal near the end, hardly really shocking. Game looks fun, but hardly groundbreaking.
Biggest disappointments about Sony's show was the complete lack of Last Guardian, no PSP2, no Resistance 3, still nothing shown of the Rockstar exclusive Agent. It was a good showing, but ultimately far too long, with too many dull moments.
As far as I'm concerned, Nintendo dominated E3 this year, with Sony coming in second and Microsoft getting the bronze this year. I'm sure many of you will disagree  – so tell me who YOU think won E3.
Of course, the real winner this year is gamers – and the loser? Our wallets.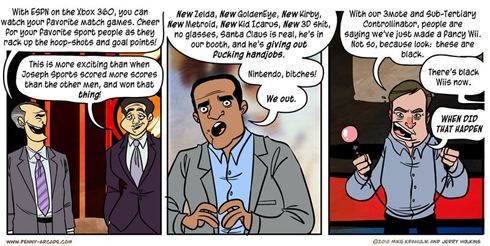 Last Updated: June 21, 2010