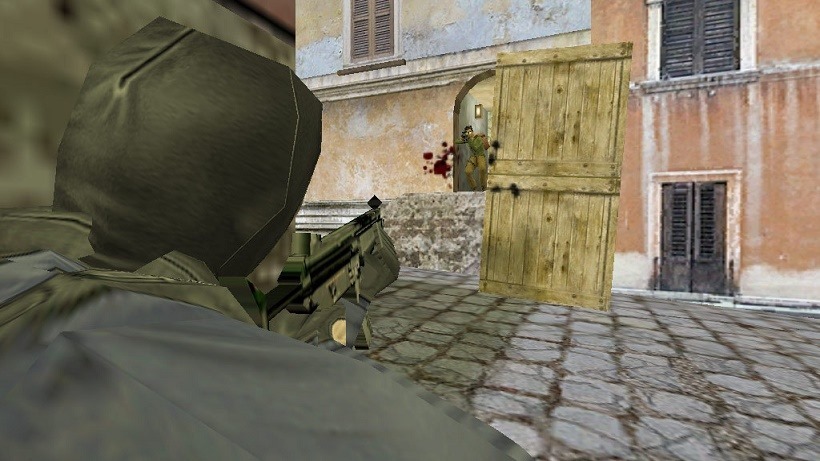 Some of my earliest multiplayer gaming memories of Counter-Strike 1.6. I fondly remember lugging my PC around town often, just so I could link up with friends to shoot them in the face repeatedly. This was back in the day of dialup mind you, so hopping online wasn't actually a viable option, unless of course, I wanted to die at the hands of parents who just received a phone bill in the thousands.
Anyhow, we're not here to chat about my childhood dilemmas, we're here to talk Counter-Strike 1.6, so where was I? Ah yes, the shooter really has come a long way! It spawned two excellent sequels, Source and Global Offensive, and it's also now playable on Android Devices.
Wait, what? Counter-Strike 1.6 on a mobile? What a time to be alive!
I'm not even kidding. One man by the name of Alibek Omarov has gone about making Valve's shooter of yesteryear playable on Android. Here's what it looks like in action (via Kotaku):
Take note that this is not some identical recreation of Counter-Strike 1.6. It's the game itself, made playable on the mobile OS. If you'd like to get it running on your phone, just follow these steps (NOTE: you will need to own CS 1.6 on Steam for this to work):
1) Install the APK. Install APK with omp postfix if you have multi-core device and noomp if you have single-core device or have problems with omp version.
2) Install the latest Xash3D Android from https://github.com/SDLash3D/xash3d-android-project/releases/latest.
3) Copy cstrike and valve folders from your Steam CS1.6 installation to xash folder on SDCard.
4) Run CS16Client!
Why you'd want to play Counter-Strike 1.6 on this platform in the first place is my question. Do you know how hard it must be to play a game like this with touch controls? I can't imagine anything more horrific!
The fact that it runs though, is honestly pretty damn cool. If Omarov could get this working, then what's stopping him from making other Valve titles of that era playable on mobile? Imagine Half-Life and all of its sequels right in your pocket…
Last Updated: April 18, 2016