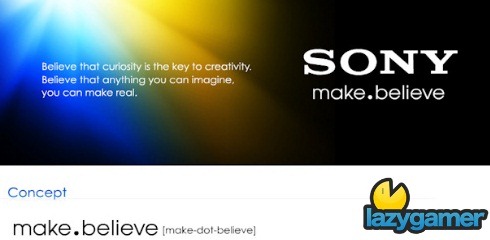 Oh Sony how we love you so. Just when you think that they have moved away from their insane past with that snazzy new PS3 Slim and those awesome new ads they hit back with a brand new corporate catch phrase that sums up the old Sony perfectly.
The new corporate catch phrase is Make.Believe (don't miss the awesome web 2.0 dot)…
It's brilliant because the next time Sony massacres a goat in public or tells it's entire fan base to get a second job or even when they spout out 4D nonsense they can simply point to their corporate catch phrase and it will all be okay.
I wonder if these odd marketing mistakes from Sony are based mainly on the fact that they are a Japanese entity and the other meanings are getting lost in translation?
Either way Sony are not getting off to a good start with this new catch phrase which is never a good thing.
Source: Industry Gamers
Last Updated: September 4, 2009