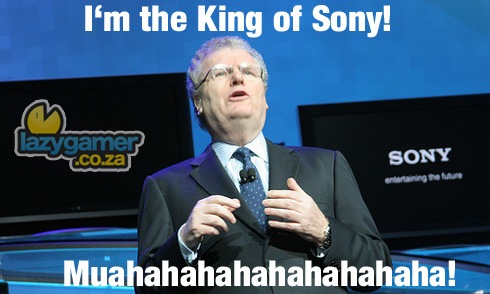 Sony President Ryoji Chubachi will be stepping down, to make way for current chief executive officer Jerry Springer Howard Stringer. Stringer will retain his position as CEO in conjunction to being the president, while Chubachi – whose decision making power will be cut – will likely be relegated to making Sir Stringer's coffee and sandwiches. Rumour has it he likes the crusts cut off.
Other personnel changes will occur within the ailing electronics giant, most notably one regarding Kaz Hirai, current head of Sony Computer Entertainment – their video games division. Hirai will now lead a new group that aims to conjugate the company's personal computers and mobile electronics units. There's no word on what impact, if any, this will have on his current position.
According to Stringer "This reorganization is designed to transform Sony into a more innovative, integrated and agile global company" and that the changes "will now make it possible for all of Sony's parts to work together."
Whether this restructuring is aimed at reviving the flagging juggernaut or just a sneaky Japanese ploy to pin the blame on a white man remains to be seen, but we can all hope it leads to a stronger, more cohesive Sony.
Source : NY Times
Last Updated: February 27, 2009