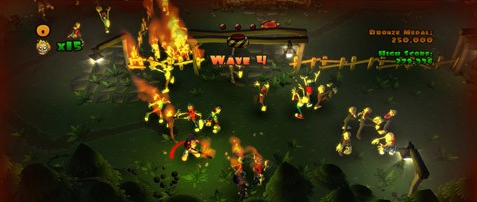 A little while ago I posted that Sony was committing online suicide by introducing a fee to developers for any of their content that is downloaded via PSN.
It seems like Sony are bringing the power back to PSN though, with this latest announcement which is a huge incentive for developers to create exclusive titles for PSN. Here is what Sony had to say:
"It's all very well for us as platform holders to say 'put all your money into PlayStation Network, it's a fantastic idea', but are we prepared to put or money where our mouth is? The answer is yes. We're looking for a number of great games, and in return for exclusivity we'll match your development budget with guaranteed royalties."
Burn Zombie Burn! is the first game to benefit from Sony's proposal and it seems that Sony are on the lookout for more titles.
This is a fantastic move from Sony, and the best part is that they aren't buying any exclusivity or rights to the titles, which means that the developers get to keep all the rights to all of their creations, they just don't run the risk of not even covering development costs.
While I can still see larger developers going multiplatform, if I was a self-publishing a game, I would really like the security of knowing that I will at least get my development costs back. Good job Sony, more of this please!
Source: PSX Extreme
Last Updated: March 27, 2009