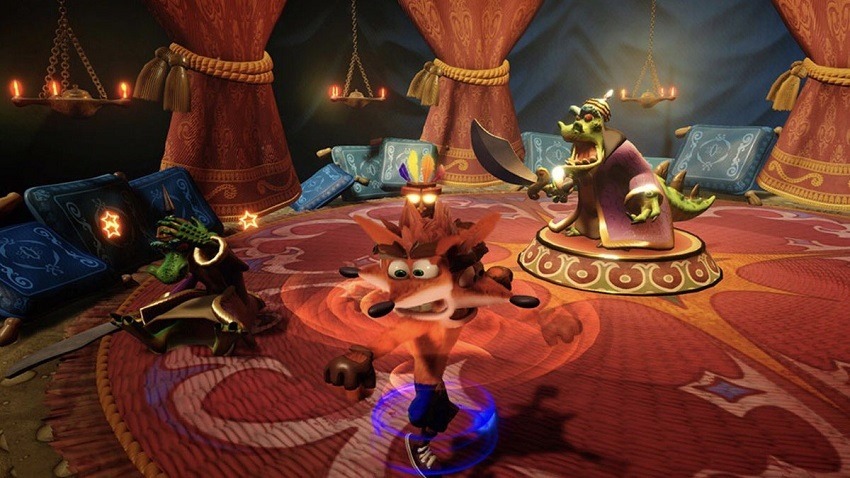 Crash Bandicoot is coming back, and as early as this June we'll all be able to relive three of the best titles to ever release with the Sony mascot. Him being a mascot for the PSX was very much to do with Sony and Naughty Dog holding on tight to his rights, which were famously sold off to Activision in the years that followed. And it's that sale that's lead to an interesting possibility. Could the Crash Bandicoot N.Sane Trilogy be bringing those three games to new platforms for the first time?
Sony (or more specifically, Sony Ireland) aren't entirely sure of the answer. At first the official Twitter account posted that the n.Sane Trilogy would be exclusive to PS4 and PS4 Pro, which seemed the more likely option given the trilogy's exclusivity to Sony since launch. But after deleting said tweet the account altered its response, instead stating that the trilogy would be coming first to Sony platforms. That's a big difference from exclusive, and doesn't rule out the possibility of Xbox and Nintendo releases in the future.
will launch on 30th June 2017. To clarify our earlier post, it will be coming to PlayStation 4 and PS4 Pro first.

— PlayStation Ireland (@PlayStationIE) 22 February 2017
And with Activision behind the wheel, that's entirely possible. It's not exactly clear yet what the deal is with the first three games, but since Activision bought the rights to Crash Bandicoot they put out (terrible) new titles on about every platform they could find. The Xbox 360 got its fair share of Crash a few years back, but the original trilogy remained a PlayStation exclusive, hopping between the Ps Vita and PS3 as a PS One Classic.
But if Activision have the rights to bring their new remaster to all platforms under the sun, I see no reason why they wouldn't. There's a lot of work going into revitalising these old platformers, and the only way Sony could've hoped to keep it exclusive was to perhaps foot the entire bill themselves. It's doubtful that's happened, so it seems lined up for Crash Bandicoot to finally share his greatest adventures outside of the Sony stratosphere.
Last Updated: February 23, 2017