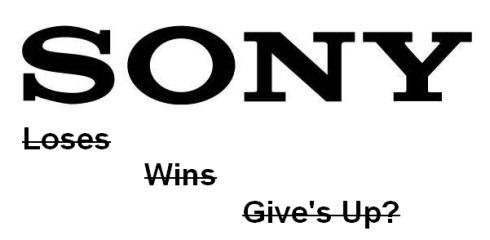 Xbots of the universe rejoice, Sony Computer Entertainment has announced it will be closing down on the 1st of April 2010.
That's it, the war is over we can all go home now…
Oh in other news Sony has announced it is creating a new department that will be responsible for entertainment and personal computing entitled SNEP… Sony Network Electronics Platform or as we like to call it, the PSN.
This department will be then remerge back into the SCE department and both will be run by Kaz Hirai… Howard Stringer is the new president of Sony and Ryoji Chubachi (who?) has stepped down… from somewhere.
Okay wait I am lost… let's just concentrate on gaming.
From what I can understand the console gaming division is now part of the SNEP division being run by Kaz Hirai and on the first of April the console gaming division will then remerge back with the SCE department run by Kaz Hirai…
SCEE and SCEA are staying as is and as such we don't really expect anything to change, at all.
My logical brain is dying here… please someone help.
Is the war over or has it just begun?
Source: Kotaku
PS: The only reason I can find for this is because SCE is currently in $100 million in debt… so this allows them to jettison some of that… somehow.
Last Updated: February 25, 2010