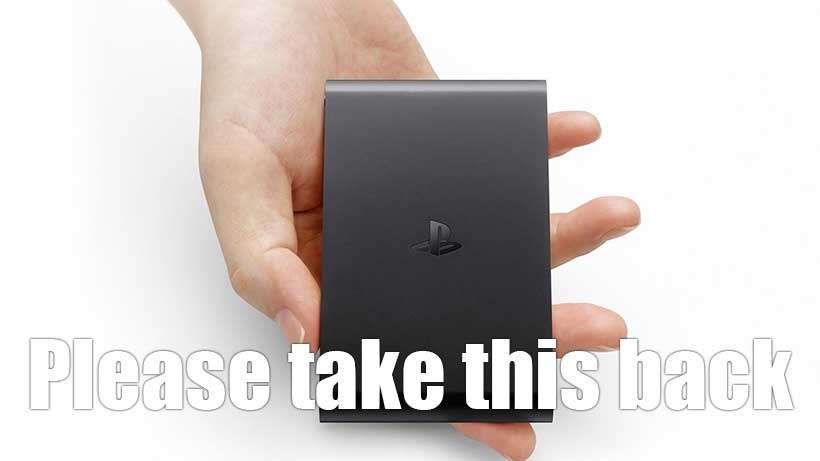 The PlayStation TV was great idea. Stuffing the innards of the maligned, underutilised PlayStation Vita in to a little micro-console that connects to your TV is a clever way to use some extra hardware you may have lying around.
Were it done well, the PlayStation TV could have been great. On paper, it's a cool device. It plays PlayStation Vita games, it allows you to play PS4 games through a network by using it as a remote extender, and it plays games from the annals of PlayStation history. Give it a wealth of worthwhile apps, and it has the potential to rival the ROKUs and Apple TV's of the world.
Only, it was better as a thought than it was as the product that actually launched. Thanks to some pretty abysmal execution, the PlayStation TV fell flat. It runs at a horrible resolution so it looks awful on big screens. It has some pretty abysmal networking components, and worse – it has a wealth of compatibility issues. Even media playing apps that work on the actual PlayStation Vita refuse to run on the PlayStation TV.
"It really all depends on what you want out of the PlayStation TV. Using it as a Remote extender works well enough if you're using a wired connection on both systems. Vita games are a bit hit and miss, as are PSP games and PSOne Classics. It's frankly godawful as a media-playing device. There are too many compromises that have to be made thanks to the system's video and audio hardware. It's a very overpriced, underperforming bit of kit that's hard to recommend. It's not utterly worthless, but it is more than just a tad disappointing, filled to the brim with unrealised potential."
In recent months, Sony's been doing its best to give the thing away – bundling it with PlayStation 4s, controllers and games in the hopes of getting rid of unwanted stock. It looks, however, like Sony's (wisely) throwing in the towel.
Sony has discontinued the PlayStation TV in Japan, and it's likely to follow suit in the rest of the world.
Last Updated: February 29, 2016