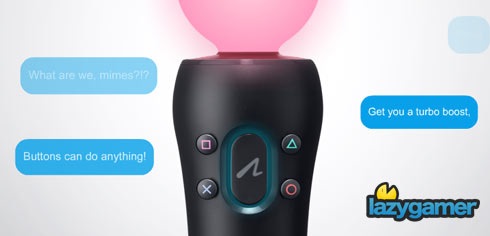 We already posted a little earlier about the fantastic "sensitive fireman" campaign that Sony is running for the Playstation Move, but after further inspection, Reece, the reader who sent us the links found an interesting page called "Yay Buttons".
The page is an interactive flash animation that shows only a Move controller and instructions to press a button, what happens after that is a long bout of hilarious fun-poking at Microsoft's new button-free, controller-free motion sensing device.
As more and more button presses are done, little bubbles pop up on the screen to tell you all the benefits of having buttons. These range from entering cheat codes to basic requirements of gaming like multitasking, platforming, zooming and so on.
The gloves really come off a little while in though, when bubbles start popping up explaining how important the pause button is. "What if I could just shout 'pause'?" it asks, taking a stab at Kinect, only to explain a likely scenario where a friend would constantly screw around with you by shouting "pause" every time he walks past the room.
They also go back to the old KB joke of using your fingers as a gun, and even make sure to chuck in a few "pews!" as well.
Kinect is pushing for something new, while the Move really is just a blatant (but improved) version of what the Wii was doing to begin with, so while it is funny to watch them poke fun at Microsoft by sticking to true and tested techniques that work, they didn't exactly think of it first now did they.
If only Nintendo came up with a response… but we know they are too busy pouring rainbows and making kittens out of candy to do something like that.
A man can only dream. Go and play with it yourself, link right here.
Thanks again to Reece for the awesome heads-up.
Last Updated: September 8, 2010