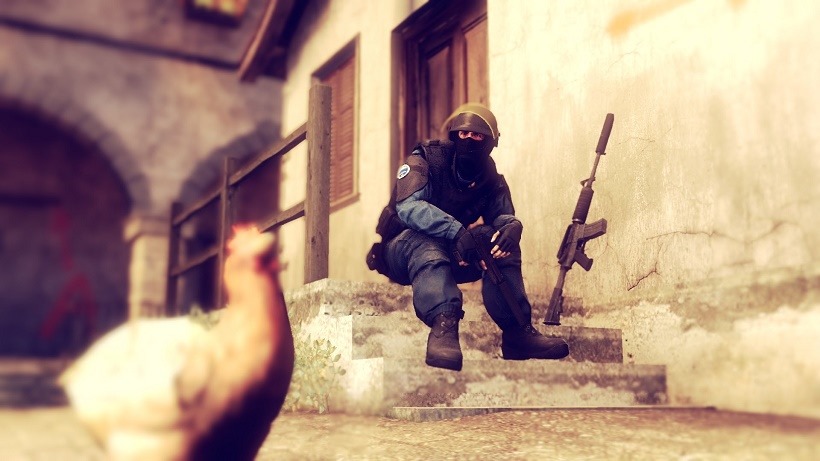 Valve's Anti Cheat software has done a great job in the past of ridding the CS:GO world of some nasty cheaters, including those in the international professional scene. Some may remember the KQLY saga of 2014. The VAC system is swift, and a strike on your profile means you're done playing CS:GO competitively on that account, or on any other account, for any other team. It's comparable to a criminal record and trying to find a job.
And now, a South African CS:GO player has been hit. The player in question goes by the name of Invert, and allow me to explain why, while this may not be news worthy, it does warrant some opinion on that matter. Invert has been playing in the higher tiers of Counter-Strike in South Africa for over ten years. This is the first time in South Africa a prominent, well-known player has received a ban for cheating. Naturally this shook the scene quite a bit as Invert was currently playing as a reserve for Virtue, a team comprised of some of South Africa's prominent veterans and up and coming players. Invert has attended a number of LAN tournaments in his competitive time, the latest (and probably last) being the Vodacom Gamer's Fest. He has attended the Digital Gaming League Championships on numerous occasions, and in the few times I've chatted with him, has come across as a really nice guy.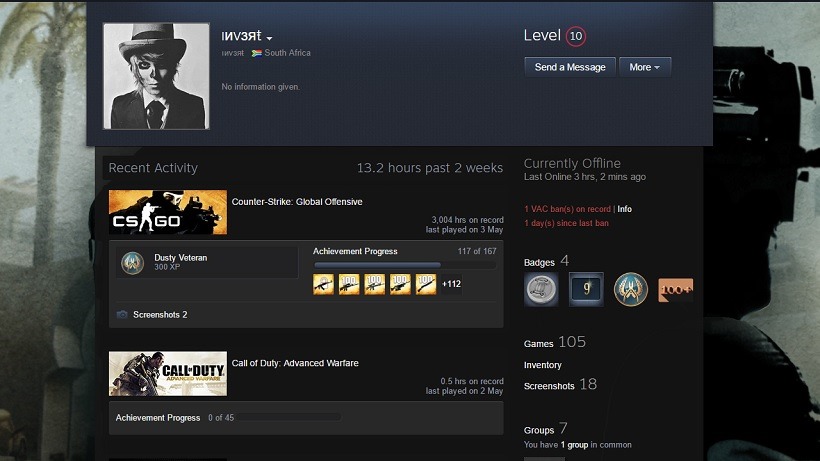 His reason (or excuse?)
In a statement put forward by Angelo "Adr3nalin" Olevano, Team owner and captain of Virtue, Invert's reason for the VAC ban was made apparent.
"On behalf of team Virtue / Above the Law – regarding the recent VAC ban received by Invert:

We brought Invert into the team as a reserve earlier this year and have to date had no indications that he may have been using any 'cheats'. As soon as we learnt of his ban we immediately removed him from our roster. We in no way condone cheating and have thus disassociated ourselves with the player until proven innocent. We will leave it to him to make an official statement as to "what happened" but would like to also mention that he has not represented our team in any competitive / DGL matches to date.

What we did learn from him was that he used a bunny-hopping script on his spoof account for non-competitive play but that VAC somehow identified this as a form of cheating and subsequently banned his spoof account which immediately spilled through to his main competitive account. Although we cannot prove anything, we find it hard to believe that he would have in fact used any aim or wall hacking scripts, those who know him a lot longer than we have, have already expressed their disbelief. I therefore ask everyone out there, on his behalf, to reserve judgment until he has had a fair opportunity to clear his name and explain himself. He has also logged a ticket with Valve in the interim. Be it as it may, we have no choice but to take him out of our lineup in the interests of the team and our strong condemnation of cheating and suspected cheating in the community as a whole.

Yours sincerely,
Team Virtue / Above the Law."
This has happened before to some players, and really it's a thoughtless, yet foolish mistake some players make when messing around on spoof accounts. Before I continue, let this be a warning to those who have considered fooling around on spoof accounts. Don't. Whether or not his reason is true, this line in particular is what led me to writing about this.
"Although we cannot prove anything, we find it hard to believe that he would have in fact used any aim or wall hacking scripts, those who know him a lot longer than we have, have already expressed their disbelief."
A lot of players have expressed their disbelief, and for those exact reasons they have every right to. Invert has been a respected player for the better part of 10 years. Some of the new comers immediately jumped on the hate train, but discussions among the more level-headed, more prominent members of the community did give him a small, maybe tiny, benefit of the doubt.
In closing
Let's assume for  a second Invert is telling the truth. Many of his respected former team members and opponents will now question anything and everything. Any player in any top team could be cheating. Your friend, your enemy, your mom, or even your aunt Nancy. The fact is, if this had to happen again to any player who tried to fool around on a smurf, he'd receive the same response from the community as Invert has. Even if he was the most respected player in the community.
This was extremely foolish on his part, and really a loss to the competitive community. I'd say innocent until proven guilty, but that big red text on his account unfortunately does him no justice. Stay safe, friends.
Like esports?
Check out esports central
Last Updated: May 4, 2016