Rumour articles like this are a dime a dozen, but some interesting little bits of information have popped up here and there that has quite a few people convinced that Splinter Cell: Conviction will be coming to the Playstation 3 in the not too distant future.
So what kind of information? Well, the reason for the initial speculation was brought about on VG247 by a Ubisoft Montreal 3D Animator's resumé that stated that he was working on Splinter Cell: Conviction for Xbox 360 and Playstation 3. [Pic after the jump]
Was it just a mistake? I did some investigating, and I don't think so. Find out why it's actually more probable than just possible, after the jump.
[Thanks to
e1ace
for the tip]
Firstly, here's the image of the resumé that was posted on VG247: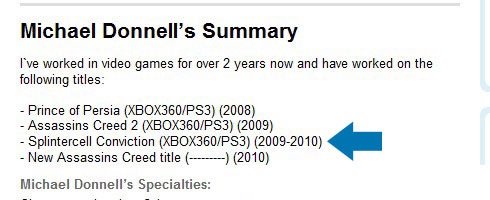 Ok now onto the next bit.
GamesRadar put together a post on why they thought Splinter Cell: Conviction would be coming to the PS3, and they actually pointed out something rather obvious.
Splinter Cell has never been an exclusive, only a timed exclusive. The Xbox versions landed up on the PS2 and Double Agent was released onto the PS3 after the console had launched. Ubisoft have never kept it exclusive, so they have no reason to do the same thing with Conviction.
They also say that if you look back at what has happened in the past, Playstation 3 owners can expect the game around August 2010. They are so confident that they say that they are 99.999999% sure that it's coming.
The next couple of guys to point something out were the blokes from Xbox Evolved who pretty plainly pointed out that there is something missing from the Splinter Cell: Conviction cover.
That something would be the words "only on Xbox 360". While most people will point out that the game is also available on PC, Microsoft have previously stated that if it's only on the Xbox 360 console, they still consider it a console exclusive.
So we already have a good couple of reasons as to why the game will come to the PS3 but what do we have to add?
Well if you look at the amount of time it took to develop Conviction, it's been a while. This mostly down to the fact that they pretty much overhauled the metrosexual-bearded looking Sam Fisher and made him into captain manliness, complete with stubble.
Now unless Microsoft have forked over a lot of money to Ubisoft to keep it an exclusive (which has never been officially announced, and would also most definitely mean a label on the box), it only seems logical that Ubisoft would want to take it over to the PS3 to increase their sales.
Is Sam Fisher going to be gracing the screens of PS3 owners in the near future? The evidence suggest so, so we say yes indeed.
We reviewed it recently and it's a pretty great game, and I am always happy to see great games become available to more people so let's hope it happens.
Last Updated: April 20, 2010