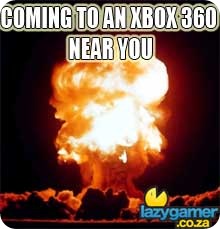 In amongst the all the April Fool's sophistry that perpetuated itself through recent news was the announcement of a new game by Twisted Pixel Games, creators of "The Maw". Heralded as a 2.5D action platformer "based around the simple concept of 'splosions and the ridiculousness that ensues," it sounded like a pretty awkward attempt at humour.
Turns out the joke's on us, as Twisted Pixel made a follow-up yesterday confirming that it was indeed not a silly jape. According to the developer, 'Splosion Man follows the exploits of the titular hero, who was "born of plasma and flame in an underground military lab." 'Splosion Man has the unique ability of being able to explode on command, an ability that reduces the scientists he encounters to "chunks of ham and ribeyes."
They've also confirmed that the game will have both story and 4-Player co-op modes, although they're keeping mum on an expected release date.
The Maw was a pretty enjoyable arcade title – I'm quite excited to see what Twisted Pixel can deliver furthering their emphasis on irreverent silliness.
Last Updated: April 3, 2009