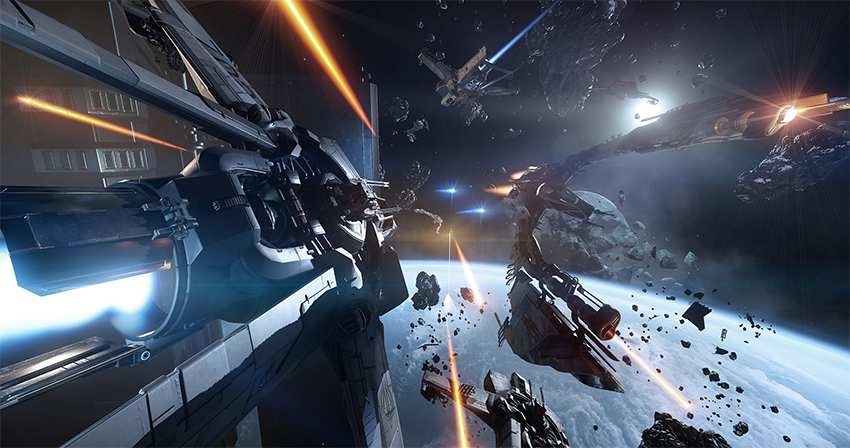 Star Citizen, Cloud Imperium's wildly ambitious and very long-in-development space everything simulator is still coming. Maybe. There's still no solid release date for the most crowdfunded game in history, with its single player Squadron 42, delayed for release some time this year. It's a terribly ambitious undertaking – with the aim of delivering a full singe player space skirmishes with first person shooter action. It's reported to feature the voice and motion cap talents of luminaries such as Gillian Anderson, Mark Hamill, Gary Oldman, Mark Strong, Liam Cunningham, Andy Serkis, Rhona Mitra, John Rhys-Davies and Ben Mendelsohn.
The main game is set to follow, and that promises to be a massively multiplayer, persistent online universe. It's a universe that won't be rendered using Microsoft's DirectX 12 API. Instead, Cloud Imperium will stick to the Vulkan API that was created from the mouldering embers of AMD's Mantle. So says Cloud Imperium on its forums.
"Years ago we stated our intention to support DX12, but since the introduction of Vulkan which has the same feature set and performance advantages this seemed a much more logical rendering API to use as it doesn't force our users to upgrade to Windows 10 and opens the door for a single graphics API that could be used on all Windows 7, 8, 10 & Linux.

As a result our current intention is to only support Vulkan and eventually drop support for DX11 as this shouldn't effect [sic] any of our backers. DX12 would only be considered if we found it gave us a specific and substantial advantage over Vulkan. The API's really aren't that different though, 95% of the work for these APIs is to change the paradigm of the rendering pipeline, which is the same for both APIs."
The decision to drop DX11 support in the future is an interesting one – and it means that gamers intent on getting the best out of Star Citizen should probably look to AMD's impending VEGA architecture, as AMD hardware tends to benefit from Vulkan under the right circumstances. There's an obvious joke here about looking at whatever cards Nvidia and AMD have available in 2028 when Star Citizen is finally released, but that's too easy.
Last Updated: March 20, 2017