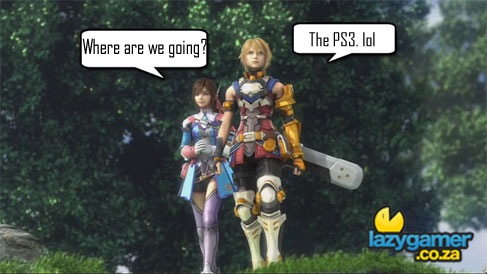 Star Ocean : The Last Hope, the Tri-ace developed, Square-Enix published RPG was released exclusively on the Xbox 360 earlier this year. It did pretty good business in Japan – so good in fact that it is to date the best selling 360 title in the land of the rising sun, with countless RPG fans having bought a 360 solely for this game.
I imagine then, that they're gonna be less than happy. Like with Namco's Tales of Vesperia, the not-quite-as-exclusive-as-previously-imagined game is now headed to Sony's console – and it too will receive significant upgrades. Star Ocean: The Last Hope International, as the PS3 version has been dubbed will see a February 2010 release, and will include tweaks to the engine and battle system.
The tide seems to have swung in the PS3's favour – Earlier this gen it was all too common for PS3 exclusives to find their way to the 360. I, for one, am glad. Third party exclusives – particularly with the overwhelming financial outlay this generation – make little to no sense.
Source : Kotaku
Last Updated: September 15, 2009