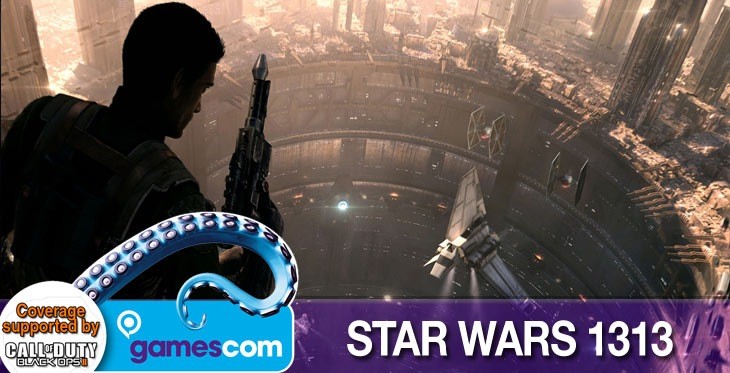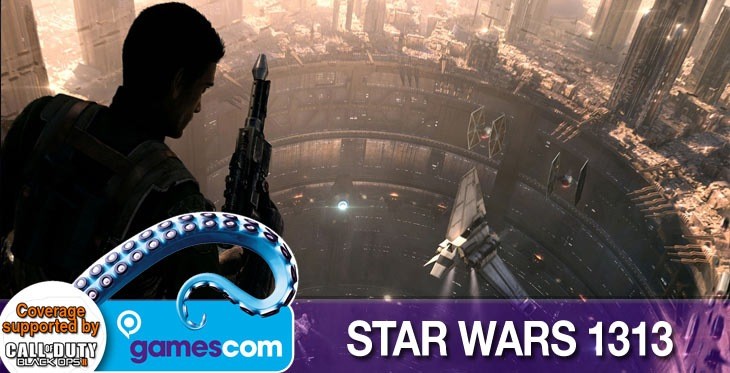 Before you get overly excited, no we didn't get to go hands on with Star Wars 1313 while in Gamescom, that would have made our first round of coverage but we did do something nearly as exciting and that is watching one of the developers go hands on right in front of our very eyes.
He really wanted us to know it was a true hands on by proving that as he moved the stick the characters moved and then he fluffed it later on and died so yes this was real.
Star Wars 1313 is the first M-Rated title from Lucas Arts and as such, there is a lot riding on this for the team behind it. The game is being developed on 3 core pillars which are Bounty Hunting, Survival and cinematic experience.
The gameplay was described as agile cover combat, this isn't a Gears of War clone but one that you need to utilise cover but move quickly otherwise you are never going to make it out alive on the other side. There is also no Jedi in this game, a move that surprised me quite a bit as I'm not up to date about the Star Wars universe.
Star Wars 1313 is a major collaboration between Skywalker Sound, Lucas Animation, Lucas Arts and Industrial Light and Magic and unbelievably the game is still actually in pre-production with the characters we see in the trailers not officially defined or confirmed yet. So there is still time to replace the grumpy old man with a busty blonde… come on Internet do your thing.
And that was the end of the discussion and we then got into the gameplay itself, the first thing that strikes you is just how incredible this game looks. You've likely seen this trailer already
Now change that trailer to HD and then multiply it by 1000 and you are still not close to really understanding the amazing graphical experience that Star Wars 1313 is.
The cut scenes were incredible with the detail so defined that you could actually see reflections in the eyes of the characters and then even more incredibly the game instantly transformed into full gameplay with no noticeable change in quality.
It's like playing a game in a real life movie and it completely blew me away.
The gameplay itself appeared to be a cross between a cover shooter and some quick time event sequences but it would be unfair to judge the game on that as it was obviously prepared to show off its graphical power and not gameplay depth.
I'm staking my hat on it now that this game will never ever make it to the current gen consoles and could still be a high-end PC exclusive if the next gen consoles aren't powerful enough.
I'm a casual Star Wars fan and I can't wait for this game to land, for the Star Wars fanatics this is obviously and absolute must have.
Last Updated: June 13, 2017