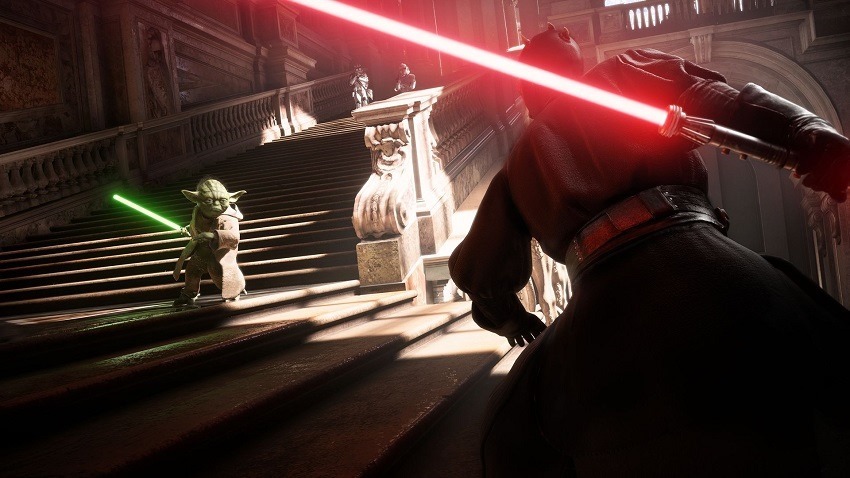 Star Wars Battlefront II is making some big changes to the reboot EA and DICE launched just under two years ago, making it already feel like the truer sequel to the franchise of shooters you might remember from over a decade ago. Beyond fundamental reworks to classes, hero character structures and more, the game is throwing together a much larger mix of Star Wars fiction and time periods for you to mess around in. And if you're still unsure of whether you want to jump in, an open beta set on Naboo might help persuade you.
The multiplayer shooter is getting an online test this October, with Battlefront II playable for those who have pre-ordered from October 4th. The beta will then open up to all players on the 6th, and close its airlocks on the 9th. That gives you a good weekend's worth of playtime with two modes, one of which we've already had some time to dig through.
Galactic Assault will be one of the modes on offer, with the massive 40-player battle taking place on the streets of The Phantom Menace's Naboo. Here two teams comprised of Battlefront II's new four player classes will battle it out, either defending the Naboo Throne Room from the droid assault or attempting to breach its walls. It's the same mode we got hands-on with at E3 last month, and I was pretty impressed with both the scale and sense of agency each class brought to the fight.
The other mode is Starfighter Assault – a new take on the vehicular based combat from the first Battlefront. DICE is being a little coy with details, promising instead that we'll see Starfighter Assault in more detail at Gamescom next month. But you can expect to be plunged into airborne battles with original trilogy fighters, with a little surprise waiting in the wings.
Battlefront II is launching for Xbox One, PS4 and PC this November, and I'm far more excited for this incarnation than I ever was for the initial reboot. DICE seems to be hitting the right notes this time.
Last Updated: July 11, 2017