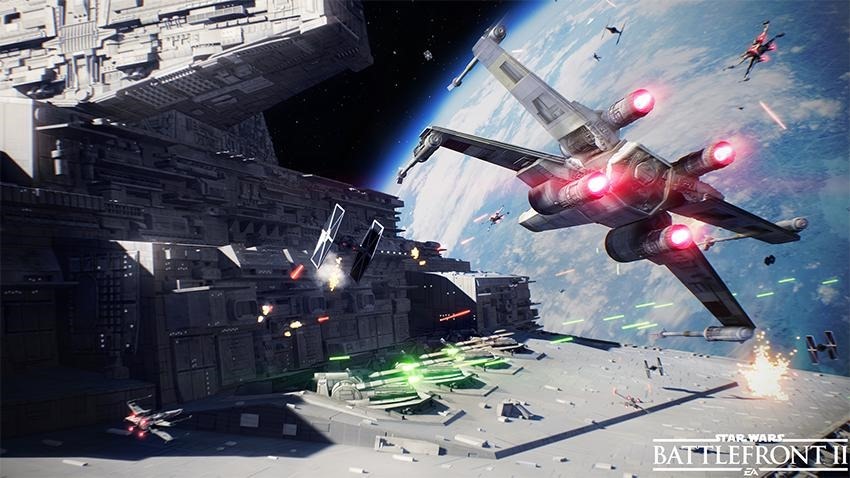 If there was one thing about Star Wars: Battlefront that just didn't resonate with player – other than the anaemic content, anyway – was the lack of decent space battles. EA has changed that – and they say that the impending sequel will have "vastly improved" aerial battles.
And they'll be showing it off next week at Gamescom!
"Star Wars™ Battlefront™ II is roaring into Gamescom with a never-before-seen trailer and a live gameplay debut of Starfighter Assault mode, including the all-new multiplayer space combat. You'll be able to watch the gameplay reveal live on August 21 at 9:30 AM PT, which will pit two teams of your favorite Star Wars™ Game Changers against one another in a multi-stage original trilogy-era space battle."
In the new Starfighter Assault mode, "Teams will face off in a swirling dogfight in the Fondor: Imperial Shipyard map, weaving around an Imperial Star Destroyer complete with speedy fighters, thundering bombers, distinct hero ships, and more."
At E3 this year, we managed to get a bit of time with the game, and found that it's a much better game than its predecessor is.
"Fundamentally, Battlefront 2 is a rather drastic change with even just this small sample to base that on. Even if its underlying combat might be firmly replicated (to the point where if it bugged you before, it should again here), but all the elements encasing it have morphed into something better resembling the franchise they're modernising. Classic or not, this feels far more like the Battlefront I expected to play two years ago. And with far more content in the pipeline, it makes me far more optimistic for DICE's second crack at it."
With batter aerial fighting, more characters and an actual single player campaign this time, are you keen on Battlefront 2?
Need more Gamescom in your life?
Check out our Gamescom 2017 portal powered by Megarom Games
Last Updated: August 14, 2017