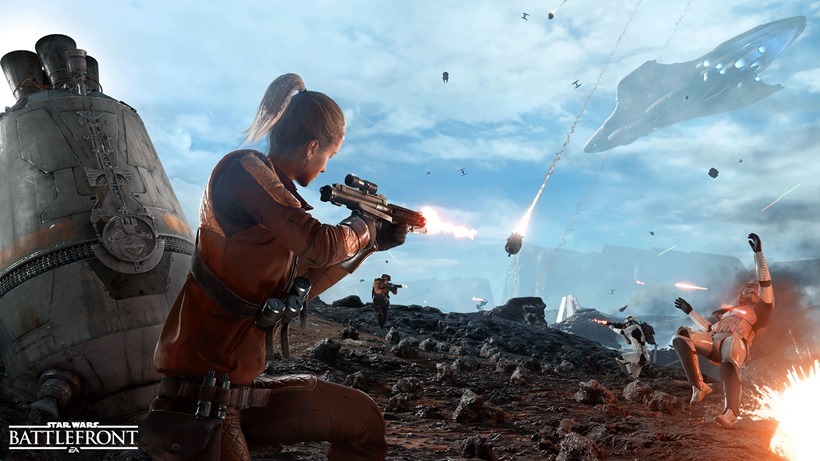 Star Wars Battlefront is mixing two very powerful driving forces in gaming culture today: multiplayer and, well, Star Wars. It's a game that I'm increasingly excited to sink hours into, especially now that we're all getting a little taste of it early next month. One of the new modes making a debut during the beta is Drop Zone – a recently revealed King of the Hill style match with a bit of a twist.
Drop Zone is almost literally what the name implies. Two teams of eight will fight over orbital drop pods raining in on the map one at a time, forcing teams to sit idly around them while a counter ticks down to its capture. Should both teams be equally fervourous in their attempt to capture it, another will drop to even things out a little and break play up. It's pretty much standard King of the Hill fair with some Star Wars lore attached, but it gets a little trickier.
Once a pod has been captured, a new one enters the map immediately. However, more patient teams can hang around the captured pod for a Power Pickup – one of the shiny little tokens that gives you overpowered weaponry, vehicle access and sometime Heroes to play as. The Pickup sits inside the pod but requires a little more time after capture to get out, creating a neat little dynamic where teams might have to split up after a capture. It will probably do game flow a world of good too, keeping it from the mundane Point A to Point B rush.
Drop Zone will be playable on specially designed maps on Tatooine, Hoth, Sullust, and Endor (please let there be Ewoks), although I suspect all of these maps won't be ready for the beta in a few short weeks. They will be ready for launch though, when Star Wars Battlefront hits lightspeed and arrives on shelves globally come November 17th. I'm pretty excited.
Last Updated: September 9, 2015