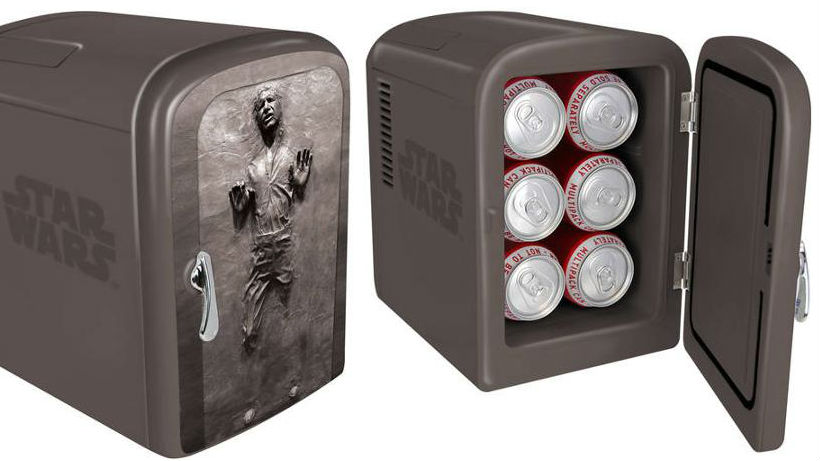 I laughed at everyone excited about the Call of Duty Black Ops 3 Juggernog edition. It's not that I minded a mini-fridge in a Collector's Edition of a game, but more that I wanted a slightly larger mini fridge. Most of my drinks don't come in standard can sizes, which means that tiny refrigeration device will barely keep two or three of my drinks cool. Now Battlefront is doing the same, and it's even tinier.
Available at Walmart if you're in the US of A, the Battlefront Deluxe Edition with Han Solo Fridge allows you to quench a bit of your thirst while playing the game. It holds six standard cans which is great if you're into your Coca-Cola or Sprite but pretty much sucks if you prefer beverages in larger cans or bottles. That said, it does look rather cool, even if its functionality isn't great.
No news on if the fridge is coming to South Africa, although I doubt it. We don't generally get the awesome EA Collector's Editions down here. Either they don't sell, or EA just doesn't want to take the risk in our market. I suppose with our exchange rate, that sort of makes sense at the moment.
See, this style of fridge is cool, but imagine it bigger. I don't mean it has to be a full size fridge for my kitchen, but a nice bar fridge size Han Solo would be seriously cool. Especially when paired with an R2D2 projecting some cool holograms. Yes, I am officially imagining the world's geekiest pub area for a house.
Last Updated: September 16, 2015