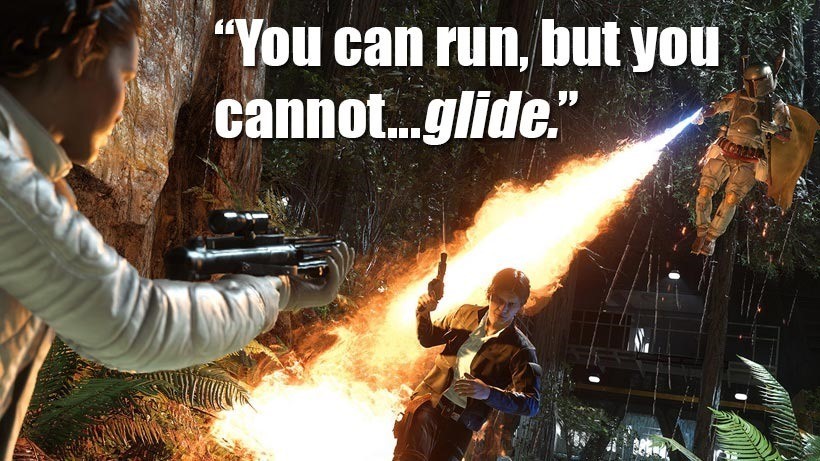 Star Wars Battlefront may be about as shallow as a YouTube Let's Player's genetic pool, but that's not actually too bad of a design flaw. What it means really, is that Battlefront is surprisingly balanced on any given map. Seeing as how the majority of the blasters in the game are almost identical minus a rate of fire here or there, the only overpowered obstacle on the field of battle happens to be Boba Fett's jetpack.
Still, that doesn't mean that there aren't some parts of the game that could benefit from a quick tweak or two. Update 1.03 has the rank 24 Star Card ability in the crosshairs, weakening the grenade volley and giving players more time to scarper off towards some cover. Naturally, people on the internet are rather upset, with much screaming being done in various forums.
"Barrage takes SO MUCH LONGER TO BLOW UP IT'S 100 percent USELESS NOW," Battlefront forum member Yotsi whinged (via Eurogamer). "Even spamming across map Barrage does nothing. They did more then nerf it they killed it."
There's not too many fixes being thrown at Battlefront right now. Because like I said, it's a fairly balanced game anyway. Here's the list of downloadable tweaks:
General bug fixes for vehicles and physics improvements
Game modes balancing tweaks
HUD UI adjustments
Audio optimisations
General crash and stability fixes
Online traffic performance improvements
Various text fixes for all languages
General bug fixes for both Missions and Multiplayer
Star Wars Battlefront's free Battle of Jaco Jakku DLC is also out today for those of you who pre-ordered. Expect to see those minor tweaks in action in that Episode VII content.
Last Updated: December 2, 2015