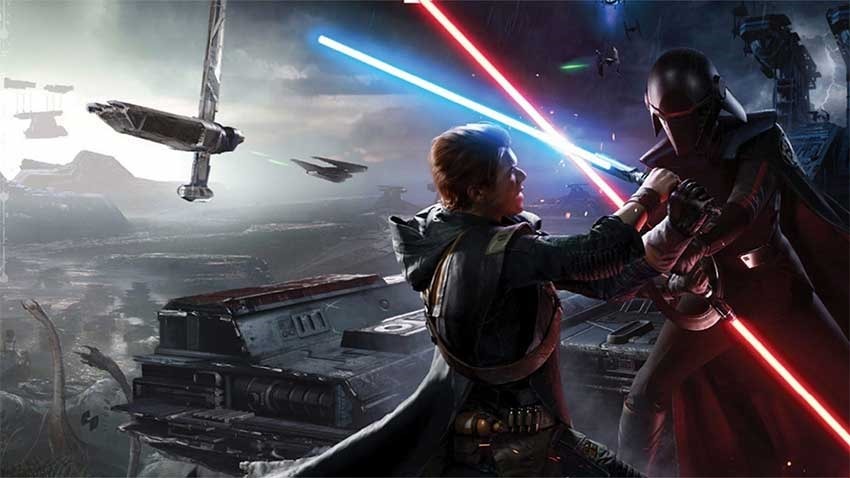 Star Wars: Jedi Fallen Order is a very good game. I played through it this weekend past, and I had a grand time exploring the galaxy in one of the best Star Wars adventures I've played in years. Sure, the game may be a little rough around the edges, and may be a tad derivative – borrowing liberally from Uncharted, Prince of Persia, Dark Souls et al – but it's a good time.
And it's been a good time for Star Wars, developer Respawn and publisher EA. According to their chest-thumping press release, Fallen Order has broken EA Star Wars records. It is now "the fastest-selling digital launch for a Star Wars game in its first two weeks" and also "EA's top-selling Star Wars title on PC in its initial launch window." While these are both bold claims that mean very little, EA is obviously thrilled with the game's performance.
"On behalf of Respawn and EA, we thank everyone for their support of the studio and the team throughout the development and launch of Star Wars Jedi: Fallen Order. Telling a story in the Star Wars galaxy is a dream come true and the reception from the fans has been incredible," said Vince Zampella, Head of Respawn. "With the launch of the game, the debut of The Mandalorian and the upcoming release of Star Wars: The Rise of Skywalker, it's a great time to be a Star Wars fan!"
Disney is also quite chuffed.
"Star Wars Jedi: Fallen Order demonstrates the amazing potential for original storytelling in Star Wars games," said Sean Shoptaw, SVP, Games and Interactive Experiences, Disney Parks, Experiences and Products. "The close collaboration between Respawn and Lucasfilm is a perfect example of how we can deliver an experience for fans that is authentic to the stories and worlds they love, while also being an incredibly fun and innovative game. With the fantastic reception and launch so far, Star Wars Jedi: Fallen Order has proven to be the must-play game this Holiday."
Anyway. Game is good, it's done well, and critics and fans alike are happy. An expansive single player game devoid of microtransactions making people happy? Funny that.
Last Updated: November 27, 2019