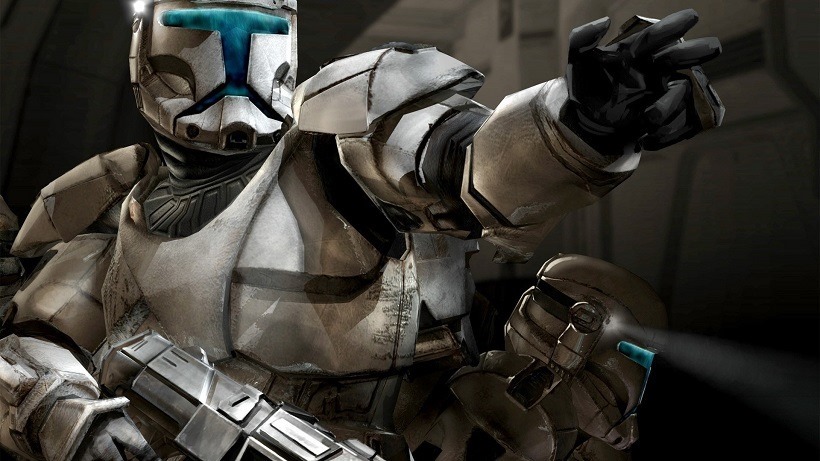 If you're a Star Wars fan in any capacity and haven't played the classic Republic Commando first-person shooter from nearly a decade ago, you're doing yourself an injustice. The squad-based shooter featuring a tight-knit team of four clone troopers was a top-notch experience that offered a different look at a universe dominated by Jedi with lightsabers, and I join thousands of other fans in lamenting that there still isn't a sequel.
Especially when a sequel was once in early development, with writers at the now defunct Lucusarts discussing two stories they could tell with a potential follow-up. Speaking to Cinelinx, lead developer on Republic Commando, Brett Douville, revealed that two very different directions were being discussed for the sequel, both of which sound like they could've been stellar to experience in the now written-off expanded universe.
There were two competing stories that were being pitched, one being developed by Tim Longo and one by lead level designer Kevin Schmitt. In one, you would have played the side story of Revenge of the Sith and carried out Order 66, hunting down Jedi as a team. In the other, Sev would have been the first man in the Rebellion army — the tagline was something like, "Every Rebellion begins with a single soldier."
Now I'm a fan of Revenge of the Sith (it's probably one of the better prequel films) but I still cringe every time I see how the galaxy's most feared warriors with lightsabers went down like punks when Emperor Palpatine issued Order 66. A game following a squad of Clone Troopers hunting far more intelligent cells of Jedi sounds like an incredible idea, only just edging out the idea of experiencing the birth of a clone trooper rebellion. Something which Disney has already dabbled with in Star Wars Rebels.
Sadly these ideas never even made it to the executive level, with Lucusarts restructuring well before Douville and his team had a chance. Of course we all know what happened years later, so a new hope for a Republic Commando rests solely with Disney now. Although with the success of Battlefront last year, who knows? Maybe it's the perfect time to revisit idea like these. I certainly wouldn't mind.
Last Updated: February 11, 2016