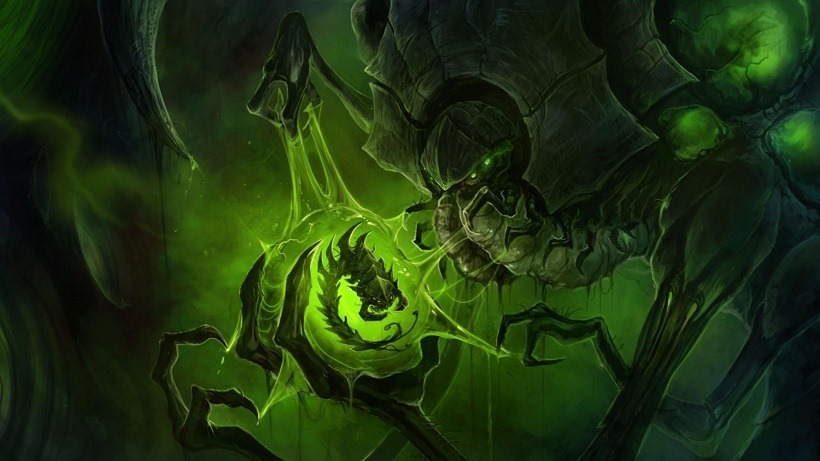 Patch 3.3 for StarCraft II is upon us, and it's packed with a whole lot of goodies. I've already told you about the mutators and mastery levels that'll be shipping with the update, but wait, there's more!
A new co-op commander is joining the ranks. You may recognise him, from both Heart of the Swarm and Heroes of the Storm. His name is Abathur, and he has a thing for essences…
You've asked for him and he's finally here. Everyone's favorite gene sequencer is ready to bring his superior intellect to the battlefield. You'll be able to collect biomass and evolve your minions into the mighty Brutalisk and Leviathan.
Abathur is all about evolution, so naturally, his playstyle revolves around making existing units a lot stronger. When enemies are destroyed, they drop essence. Collect enough of these, and you can upgrade your units directly on the battlefield, into something far bigger, uglier, and stronger.
That's not all Abathur has up his many limbed sleeves though. He also has access to the following abilties:
Toxic Nests – Place a hidden explisive mine which damages enemies which walk on them.
Mend – Heal all allied units in a target area with a burst heal and apply a heal over time effect. Affects units of all types including buildings.
Like what you see? It'll cost you! Abathur can be yours for just $4.99. That's not a bad price considering how many hours of co-op goodness he'll provide, but I did genuinely think that Blizzard would take the Diablo III approach, and provide content of this nature for free. Thankfully, the mutators and mastery levels mentioned above won't cost a penny.
Anyways, along with this co-op mission content, patch 3.3 also comes with new chat emoticons, a new landing screen, and a ton of improvements, balancing, and bug fixes. You can read up on all of those in detail right here.
Last Updated: May 17, 2016