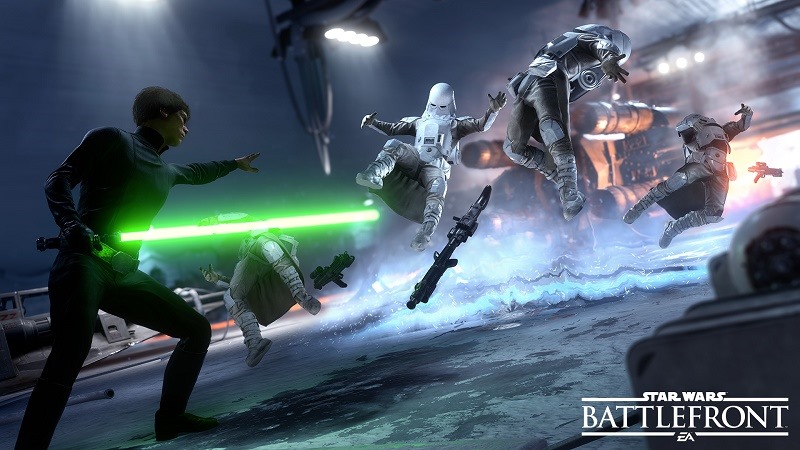 Star Wars Battlefront wasn't a bad game, but it wasn't exceptionally great either. In Darryn's own words:
Star Wars Battlefront isn't a total train-smash. Far from it in fact. There is a very solid game here waiting to be played, but one that is far from being fully armed and operational. It's far more effective to see it in action than to actually play it, as it relies a little too heavily on nostalgic necromancy to power a product that feels like a very small slice of the Star Wars universe. And an expensive slice at that.
Despite its mediocrity, I've been dying to try it out for myself. A shiny shooter set in a galaxy far, far away? Yeah, I fail to see how I wouldn't find at least some sort of satisfaction. Now is as a good a time as any I suppose. What with three DLCs out, and a fourth on the way, there's a ton of content to get through.
It's won't be too expensive anymore either, thanks to the Star Wars Battlefront Ultimate Edition that EA have just announced. It's shipping next month (via VG247):
To celebrate the one year anniversary of the game's launch, today we're excited to announce Star Wars™ Battlefront™ Ultimate Edition, available in November. This special edition of the game includes everything you need to expand your galaxy and live out your ultimate Star Wars™ battle fantasies. The Ultimate Edition includes Star Wars Battlefront, as well as the Season Pass and its four expansion packs: Outer Rim, Bespin, Death Star and Rogue One: Scarif. Combined, that's over 30 maps, 14 heroes and 14 game modes.
As far as I can tell, the Star Wars Battlefront Ultimate Edition is already out digitally. This announcement was made purely for the boxed retail edition.
Hopefully it will make its way to our shores, and into a bargain bin soon so that I can give EA's beautiful, albeit shallow shooter a bash. In the meantime I'll distract myself with Battlefield 1 I suppose.
Last Updated: October 20, 2016