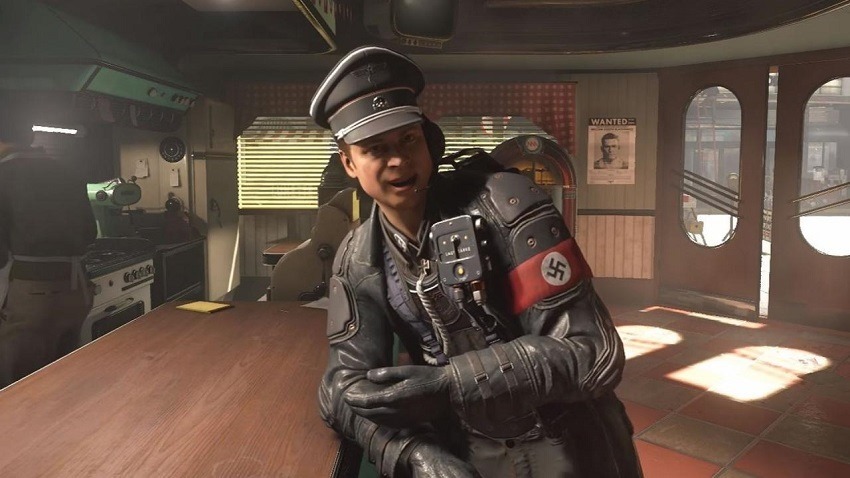 If you watch just the last two Wolfenstein II: The New Colossus trailers, you might be confused by how little Nazi killing there is in a game mostly about doing just that. But in a way that's the beauty of MachineGames' take on the classic shooter franchise. They aren't just about the gloriously gory skirmishes – they understand how to create tense, unnerving situations for you to guide B.J Blazkowitz through. Even when it only involved a pink, strawberry milkshake.
One of The New Order's greatest moments involved an early encounter on a train, which put Blazkowitz in a dangerous game of cat and mouse with Frau Engel. This time, Blazkowitz is trying to safely navigate his way through the Nazi controlled streets of America – carrying an atomic bomb with him no less. His journey takes him to a local diner, which shows off more of the twisted alternate history timeline which has Americans attempting to quickly learn German to appease their new rulers.
It's unsettling to say the least, and MachineGames really knows how to sustain that.
Of course, The New Colossus is mostly about shooting though, and you'll have plenty of chances to get some back on the Nazis throughout the campaign. The limited health and retro UI is back, along with some new weapons that you can handle in both single and duel-wielding fashion. If The New Order was about fighting back against the worst outcome of the second world war, The New Colossus is about wrestling control back of your homeland.
And you can bet your boots Blazkowitz is up to that task this October.
Last Updated: July 27, 2017