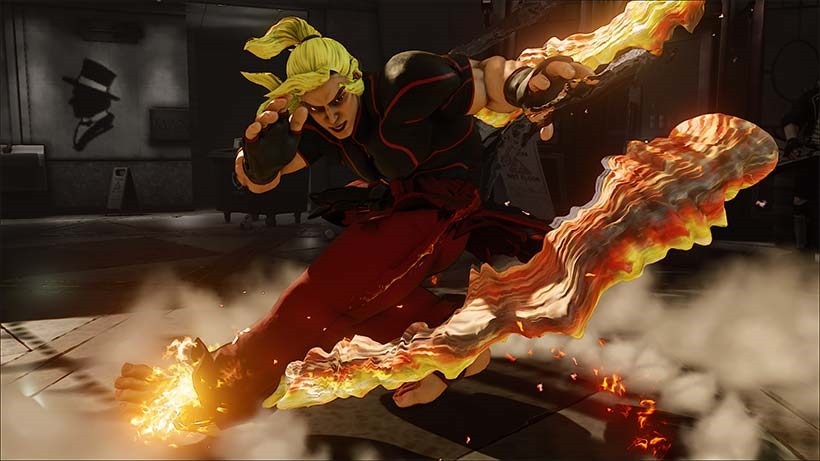 Street Fighter V is a pretty damned amazing fighting game. The core mechanics are the same as they've ever been, but the dynamic has been given a welcome shake up thanks to the new "V" system, which removes the "Ultra" comeback mechanic in favour of something that's a little more balanced, and requires a little better meter management.
As a fighting game, it's great. As a complete package though, it's a little anemic – and lacking something. That something, for the most part, is "stuff to do if you're not playing with others."
There's a story mode, but it's so basic and pointless that there's not really much impetus to play it. In fact, you can just watch it all (via XusesGB), here if you feel like it.
There is hope for the lonely player though. Next month, the game will receive challenges – which is where you can learn some of the game's more intricate combos and systems, and how to apply them to your own battles. In June, you can expect a full, proper story mode that uses CG footage instead of the still images that make up the game's story mode right now.
By the hyperbole that Capcom's thrown about, you'd expect something as expansive as the story you'd find in Mortal Kombat's more recent entries.
"For the first time in franchise history, we are creating a cinematic story experience that takes players deep into the Street Fighter action and mythology through beautifully rendered cutscenes. The Story Expansion will be available to all players as a FREE content update, releasing in June 2016.
Chronologically in the Street Fighter storyline, it takes place between the events of Street Fighter IV and Street Fighter III, and fully explains everything that transpired in that electrifying time period."
That may not be the case. According to Capcom's Yoshinoro Ono, the Story mode that'll be coming in June will take you just 1-2 hours to play through. Ono says as much at around 3 minutes in to this message.
As for the other content coming for the single player? There are those challenge modes, which Capcom detailed earlier:
Challenge Mode consists of 4 sub-modes, each of which has been designed to help you improve your skills and gameplay:

Battle Tips

Learn the ins and outs of Street Fighter V through helpful demonstration and tutorial content. Contains content for each of the 16 characters, as well as advice geared towards all levels of players.
Available March 2016

Trials

Put your skills to the ultimate test with combo trials for all 16 characters, ranging from basic to pro combos.
Available March 2016

Targets

Complete daily renewing goals to earn fight money, in-game titles, and other cool content.
Available soon after launch.

Extra Battle

Fight against special CPU bosses in the ultimate challenge. Earn in-game rewards upon completion.
Available soon after launch.
It's a little disappointing that the single player story expansion won't take long to play through, but it is free. I'm certainly more excited for the combo trials.
Last Updated: February 16, 2016