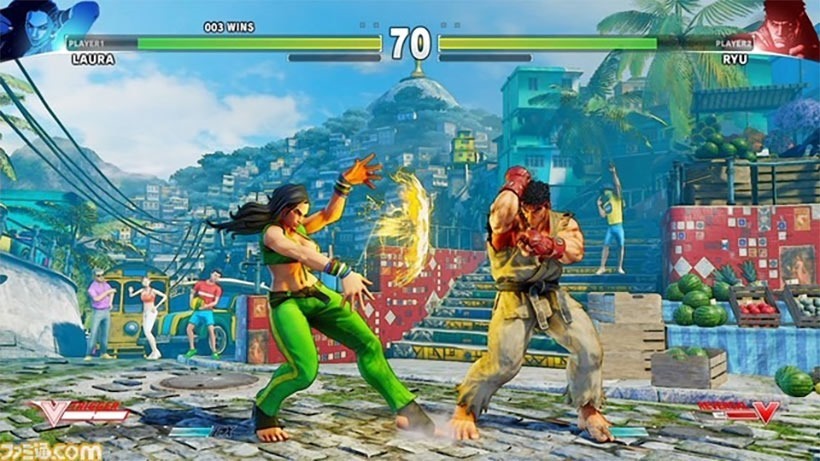 The Brazil Games Show kicks off in Sao Paulo today, and today sees the official announcement of Brazilian newcomer Laura as a playable character in next year's Street Fighter V. Unfortunately for Capcom, the character was leaked all over the internet days ago. From a series of pictures spawning from Japanese magazine Famitsu, we got a brief look at Laura, who seems to be a capoeira fighter with silly kicks enough to make Eddy Gordo jealous and the Brazilian Jiu Jitsu chops to rival the Gracies.
And now, her announcement trailer's been leaked ahead of time too. Capcom spent much of last night furiously taking down videos of the newest challenger, but seem to have now given up. Here then is Street Fighter V's Laura.
You may notice a few similarities between her overall style and another World Warrior hailing from Brazil: Blanka – what with her rolling about and electrocuting everything.
In related news, Capcom's announced the dates for the second big Street Fighter V beta, which this time allows for cross-play between PC gamers and their PlayStation 4 brethren. The beta kicks off on October 22 on both platforms, while the much lauded cross-platform functionality will be tested on October 24 and 25.It'll be something new for those who played the PS4 beta too, because it'll feature a whole new wave of characters. Ken, Necalli, Vega and R. Mika will be available from the start, while Rashid will be added in on day two of the beta (Oct.23). Sakura's rival Karin will be added on day three (Oct.24). Unfortunately, Laura will not be a part of the beta.
Last Updated: October 8, 2015