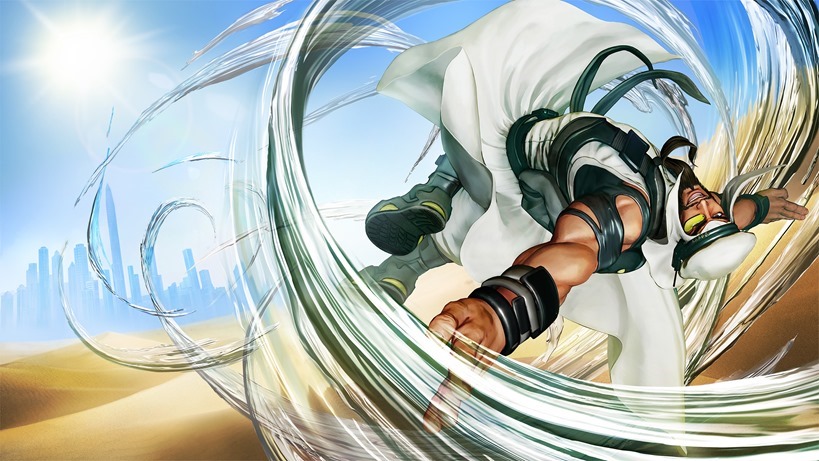 Street Fighter V has had a decidedly Alpha feel so far with its character reveals so far, showing off familiar faces and cult classics back from the dead. That's not to say that there aren't any new faces joining the roster for this iteration. In fact, this Street Fighter is looking to have a solid mix of new and old.
And provided that El f***ing Fuerte never darkens my video game doorway ever again, that's something that I can get behind. Here's the latest such new addition for Street Fighter, Rashid. According to Capcom, he's my kind of character. Chillaxed:
Joining the series from the Middle East, Rashid is an easy going and laid back character that has a very keen interest in technology and the latest gadgets on the market. His fighting style takes cues from parkour and he mixes it up with his unique ability to harness the power of wind.

Always first in line to buy new tech, he uses these devices to research and create his fast-paced acrobatic moves, leaving his opponents in the dust and wondering what's coming next.
Rashid looks to be a mix of speed and punishing combo setups. His V-Skills set up opponents for tricky comebacks, as well as buffing his overall movement:
V-Skill 1 – Front Flip
Rashid performs a high flying flip over the opponent. Pressing kick during the Front Flip results in Rashid performing a divekick.
V-Skill 2 – Rolling Assault
Rashid closes the gap between himself and the opponent with a quick front roll. Pressing kick during Rolling Assault results in Rashid kicking upward at the opponent.
V-Trigger – Ysaar
Rashid throws out a slow moving whirlwind that closes in on the opponent and causes damage to them if they touch it. While the whirlwind is out, Rashid can use it to increase his movement on any attack that propels him forward.
After having more time with the Street Fighter V Beta, I'm still firmly in the Nash camp. Nash is my boyee. But Rashid looks interesting. And I always dig seeing how veterans come up with techniques to maximise the use of such new characters. Plus, I like the fact that Rashid has a power level scouter from Dragon Ball Z on his face.
Last Updated: September 14, 2015