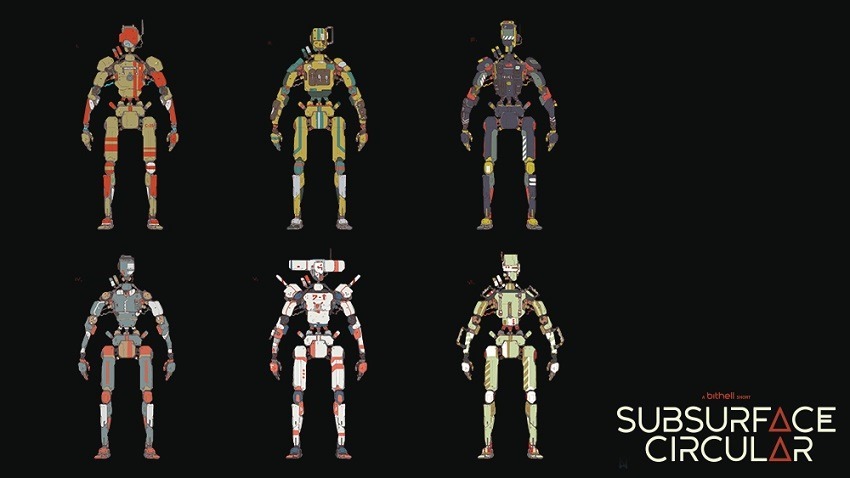 We're slowly getting to the point of having long, stretched out PR cycles for new games shortened for good. Bethesda has adopted the model for many of their releases following the six month lead into Fallout 4, with Wolfenstein II and The Evil Within II both set to launch in the same year that they were revealed. But few attempted to announce and release their games at the same time. But not Mike Bithell, acclaimed design on Thomas Was Alone and Volume. Instead, he's doing just that.
The first of what Bithell dubs experiments into smaller, cheaper games, Subsurface Circular is best described as a more modern take on a classic text adventure. You're flung into a robotically powered detective story, which plays out in a series of dialogue and choice sequences. The game doesn't stop there. Instead it features some gorgeously presented robots and lovely backdrops to associate your choices with, which brings the game to life like text alone could not.
The bigger point is that it's out right now. Subsurface Circular will run you just $6 (less now that it's a little discounted for launch), and can be bought right on Steam. Bithell explained that he wants to test this model out after receiving positive feedback on some questions he posed around it some time ago. That might mean there are more projects in the work, which could see equally stealthy releases in the near future.
Mike Bithell and his team most recent launched a game for Google's VR headset. Daydream, which followed critical and sales successes of both his stealth-focused title Volume, and debut platformer Thomas Was Alone.
Last Updated: August 17, 2017