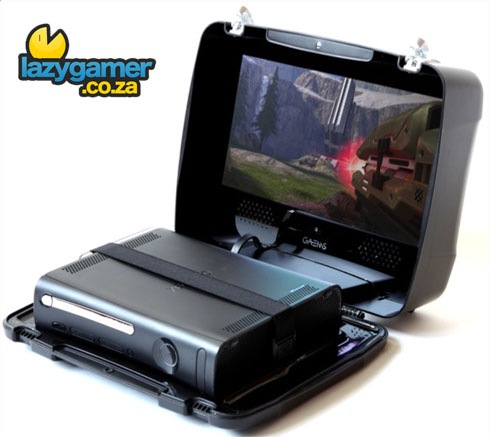 GAEMS, Gaming and Entertainment Mobile Systems are working on a portable suitcase that turns any Xbox in to a portable gaming system – which they took pleasure in showing off at E3.
If you're the sort who travels a lot, but absolutely has to take your console gaming with you, the $250 its expected to cost may be a worthwhile investment.
The case features a 15" screen, a whole bunch of speakers and place for your console – all encased in dense dense polyurethane to protect your tech from bumps.
At the moment the prototype only first the Xbox 360, but they're planning on releasing a universal model to accommodate the Xbox 360 S as well as the PS3 Slim. The current design doesn't have any place for controllers, but they're planning on supplying purchasers with a carrying case for those.
There's still a lot of work to be done on the design – at the moment it pinches cords when closed and has an unsightly power cord sticking out of it – but the company says they'll finalise the design based on gamer feedback.
I can't say this is something I'd ever use – when I go away I prefer to forgo technology – but it'll certainly have its audience. What do you think? is this something you'd shell out 2 and a half grand for?
Source : Gadgetreview
[Thanks to Someone for the tip]
Last Updated: June 22, 2010