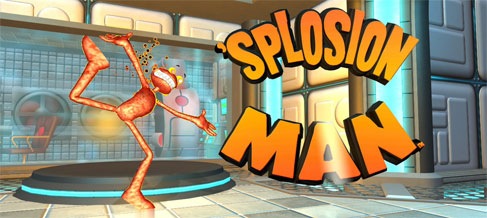 While you may not believe it – tucked in your duvets, embracing your 12-fin oil heaters or sipping on warm, cocoa-flavoured milky drinks – Xbox Live's Summer of Arcade kicks off  with Twisted Pixel's *groan* explosive follow-up to their underappreciated gem, The Maw. That's right – The first game this "Summer" is 'Splosion Man,  4-player co-op action puzzle platformer featuring plenty of  – yeah, you guessed it – splosions.
Critic reaction to the game has thus far been superlative, with Destructoid saying in their review that "'Splosion Man is without doubt one of the most polished, original, and enjoyable games on Xbox LIVE, a great way for Microsoft to kick off its "Summer of Arcade." If you enjoy stern, sometimes unforgiving platforming challenges, you simply shouldn't miss it."
Xbox live's Summer of arcade 2009 has started off with a bang – and with a current Metacritc rating of 90% – It seems that 'Spolsion Man really is a blast.
'Splosion Man is available from tomorrow for 800 MS Space Bucks.
Source : Major Nelson
Last Updated: July 21, 2009