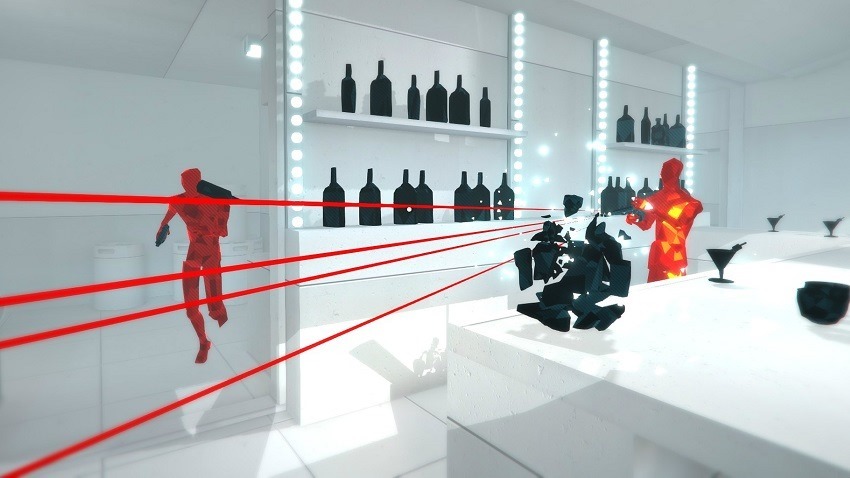 Superhot isn't your traditional shooter. In fact I'd be cautious to call it a shooter at all. This minimally styled action game reminds me of a moving puzzle. A well-designed game that twists your natural expectations of a genre and creates something that is well and truly unique. Because in Superhot time only move when you do, and it's about damn time it's arrived on PS4.
Launching tomorrow (and later in the week for the USA), Superhot on PS4 comes in two flavours. You're able to get the standard, standalone game, which features the trippy campaign and additional extras that eventually launched on the PC and Xbox One versions. Then there's Superhot VR – one of the most lauded VR experiences to date that is finally making its way to PlayStation VR. If you want, you can even pick up both for a slightly reduced bundle fee.
Superhot's main hook is time manipulation and the fact that a single mistake can kill you. Its hand-crafted levels are designed to allow you to create your own path through them, deftly dodging bullets and thrown melee weapons in the blink of an eye. The best feature is the end of each stage though, where your stop and start decisions are played back at full speed, making you look like some reincarnation of John Wick in videogame format.
I quite liked the game when it launched on PC, aside from some odd narrative quirks.
Superhot uses its time-altering core idea to great effect, creating a puzzle game that forces you to balance slow, thoughtful moves with quick, precise shooting. It's a puzzle shooter that is easy to digest in small does but hard to put down, making the entire mind-bending journey one that will get your adrenaline pumping and brain thinking in equal measure.
Superhot is definitely a game you should play though. And if you've been waiting on PS4, that wait is finally nearly over.
Last Updated: July 18, 2017