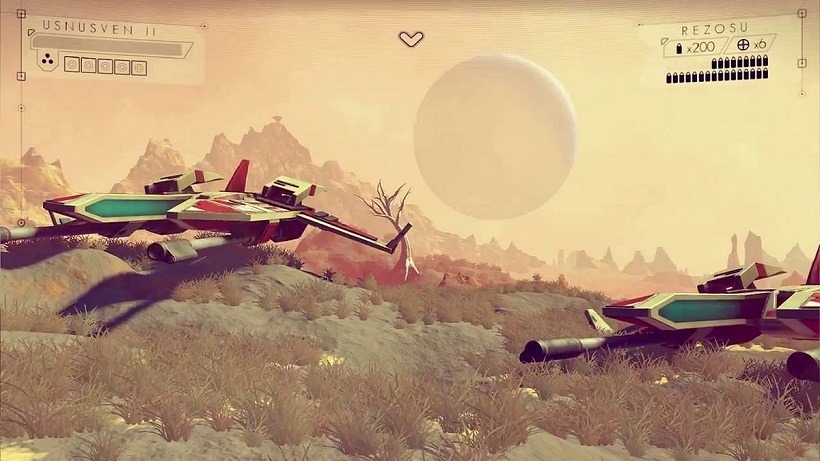 No Man's Sky is less than two weeks away from finally launching, and in the lead up Hello Games have been pumping out a series of short trailers showing off the game's four main pillars of gameplay. There's mass exploration, ground and aerial combat and diplomatic trading to wrestle with, but all of those come secondary to the most instinctive feature No Man's Sky offer. Its massive universe is an incredibly harsh one, and you're going to have to focus to stay alive.
And that's not from sentinels trying to turn you into space dust or pirates coming after your bounty. Survival is down to raw preparation. Some planets might be too cold, too toxic or too hot for you to set foot on, draining your resources and burning through your suit's shields before you drop to the floor prematurely. It's not the most in-depth survival system around (it's not really a game concerned with the last time you took a bite of bread), but it's a system you won't be able to ignore.
In the most basic way, survival encapsulates all three other pillars of gameplay that No Man's Sky offers. Out most basic instinct in life is survival, and this permeates right through everything you'll do in this procedurally created world. You'll have to stock your inventory with items that make interplanetary exploration possible, surviving the harshest conditions maths makes possible. Either that, you'll you have to get really good at carving out caves in especially cold planets. The odds of a misshapen Tauntaun saving your behind isn't exactly high.
No Man's Sky is still a little confusing and equal parts fascinating, but it's only a few short days before we really know if he last three years of excitement have a worthy enough payoff. It's out on PS4 on August 9th, and on PC later on the 12th.
Last Updated: July 28, 2016