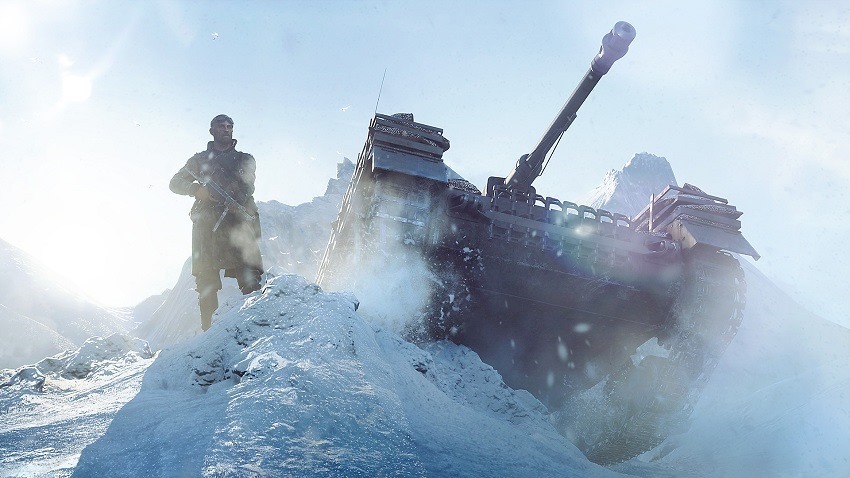 I've never been a big fan of Battlefield and its particular brand of multiplayer action, which means I've been playing less of the series lately given the strong focus on its competitive aspects. Battlefield 1, for example, didn't even have a singular story to follow, instead crafting a handful of missions that helped you get up to speed with the game's mechanics. What those vignette's did rather well though was tell smaller, self-contained stories about the war they were set in, which is exactly the approach Battlefield V is taking next month.
The vignette's were a highlight of Battlefield 1 personally, even if some of them really struggled to blur the lines between captivating single-player content and stretched out tutorials. Battlefield V might have a chance to improve on that, but one thing it certainly isn't lacking in already is variety. The trailer below (narrated by none other than Mark Strong) shows off snowy mountain ranges and the dry heat of the North African campaign during the second World War. You'll be thrust into the boots of multiple characters as you play out their stories, in seemingly different facets of the globe-spanning war.
Variety in locales is supplemented by a good spread of military divisions too, highlighting some players in the war that don't often get time to tell their stories when most games focus on the same pivotal battles. As the description for the trailer explains, you'll sometimes find yourself in unfamiliar territory, which seems to include a climatic ski escape down those same mountain ranges. It also details that only three campaigns will be live at launch, with a fourth one set to drop later in December.
"In Nordlys, resist German occupation in Norway, sabotage behind enemy lines as an unlikely English soldier in Under No Flag, fight for a home you've never seen in Tirailleur, and in The Last Tiger (available in December) join the crew of a Tiger I as they question why they fight."
Battlefield V was originally meant to launch this month, but with the releases of Call of Duty Black Ops IIII last week and Red Dead Redemption 2 next week, it's unsurprising that it was moved. You'll have a chance to return to World War II and it's horrors on November 20th.
Last Updated: October 17, 2018