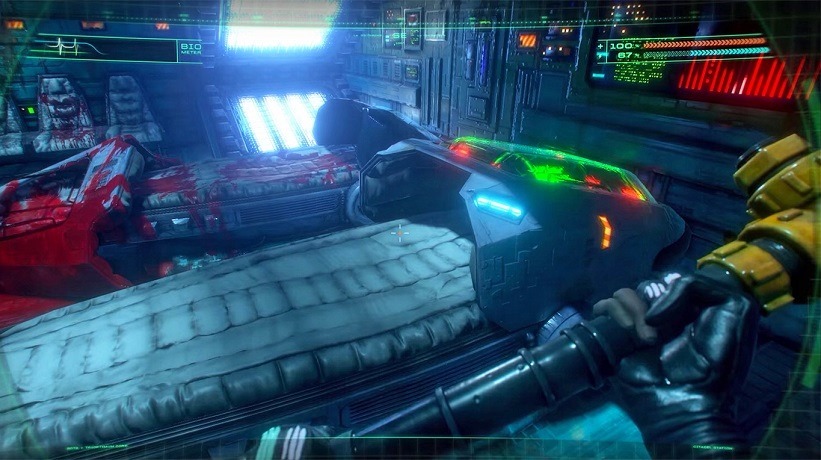 System Shock is getting a full on remake courtesy of Night Dive Studios, and the Kickstarter is currently on its way to success. There's just under a week left on the campaign, but for Sony fans it was a pretty empty one. That's because before yesterday the remake was exclusive to Xbox One and PC. A fact that Sony and Night Dive quickly changed due to massive fan demand for the title.
In an update to Kickstarter, project director Jason Fader broke the good news. The studio has been in communication with Sony ever since word of the remake skipping PS4 surfaced, leading to massive fan outcry for a port. Sony apparently jumped at the chance too, which has led to the platform being added to the roadmap.
"When we launched this Kickstarter, supporting PS4 was a possibility, but we hadn't started talking to Sony just yet about it. We were all focused on wrapping the demo up and prepping the Kickstarter. We already had strong contacts at Microsoft from prior projects, so supporting Xbox One was less of an unknown. After we saw the overwhelming demand for PS4, we reshuffled our priorities and focused on talking to Sony about making that happen. After a few weeks and lotttts of emails, we are officially on track for bringing System Shock to the PS4! No stretch goal for it. We're adding it in as a thank you to our backers that put their faith in us."
The only catch here is that it might come a smidge later than the Xbox/PC versions. While those are currently slated for launch in late 2017, System Shock on PS4 will only launch in 2018. But with this being Kickstarter and an independent company, anything can happen really.
Although the campaign is nearly done, Fader urged fans of the project to continue donating in light of a new platform addition. It adds time and money to the project, and Night Dive needs all they help they need apparently.
"The more were able to raise, the better the game will be. Please tell your friends about us, share this news about the PS4 support, and help us make the amazing game you all want."
I do hope this project remains as ambitious as the free PC demo Night Dive released a few weeks back, because then we're in for a truly special revival of a treasured classic.
Last Updated: July 21, 2016