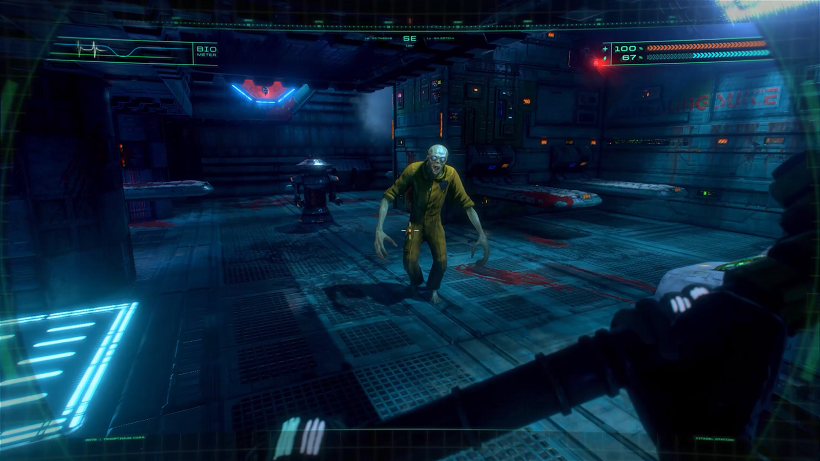 If you're a fan of what Ken Levine did with the BioShock series (or at least the first game in it), and you haven't yet played System Shock, then Night Dive Studios is treating you. The development house has been working on a remaster for the original System Shock for a while now, and a previous look at their work showed off some promising work. And as development ramps up, so do their needs – which means the project is coming to Kickstarter.
Considering we've already seen some of the game in action, it's not at all surprising that a Kickstarter for the project is only being launched now. Potential backers will have the chance to throw money at the passion project next month, the the campaign going live on June 29th. Nothing more about the campaign was revealed, especially when it comes to any potential release dates.
This project, which is now formally named System Shock Remastered, must not be confused with games you can already buy. System Shock: The Enhanced Edition launched on GoG last year, and is the original game reworked to run on more modern systems. This remastered project is a rebuilding of the game from the ground up, which is clearly evident from the gameplay that has already been shown off.
System Shock was the massive influence behind BioShock, with Levine and many of the team at Looking Glass Studios eventually forming Irrational Games. Its sequel is arguably better, but the first game in the series really set a new standard for storytelling and gameplay intertwining at such an early time in gaming. There hasn't been a new one since System Shock 2, but earlier this year Warren Spector revealed that he'll be helping to change that with System Shock 3.
I'm excited to play System Shock again in a much more beautiful skin, so I'm well behind this Remaster. Do you have any fond memories of the game? Are they strong enough for you to back this project next month?
Last Updated: May 17, 2016