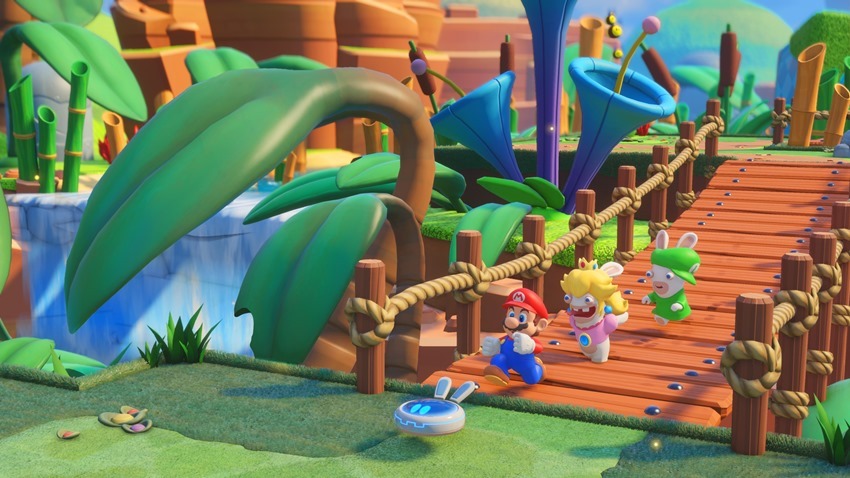 We've obviously splintered off the main timeline and are living in one of the alternate futures, because I'm actually excited for an impending game that features Rabbids. Ubisoft's annoying proto-minions usually make me want to take a rocketship off of this planet – but that's changed for Mario + Rabbids Kingdom Battle.
It's been fascinating to watch the general sentiment around the game do a complete 180-degree shift from its pre-announcement leak to the actual reveal that saw a clearly passionate Davide Soliani – the game's creative director – brought to tears when his game was announced by Shigeru Miyamoto.
Better still, the game is actually great – playing like a Mushroom Kingdom XCOM. The team and turn-based strategy game is deep, satisfying and a soon-to-be-welcomed addition to the Switch library. What hasn't been talked about much is the game's co-op gameplay. They've now shown quite a bit of the game's co-op mode in a new developer walkthrough.
Each player selects a team of two characters, along with weapons. In this instance, it's an escort mission – so they've opted not to use weapons with a large Area of Effects, as they may end up hurting the people you're meant to save. In co-op, the game requires new tactics and some solid communication between players.
The demo clearly and capably shows how the game is probably far more tactical than you'd imagine given its bright and colourful Mushroom Kingdom aesthetic.
The game is out as a Nintendo Switch exclusive on August 29. I need it.
Last Updated: August 7, 2017