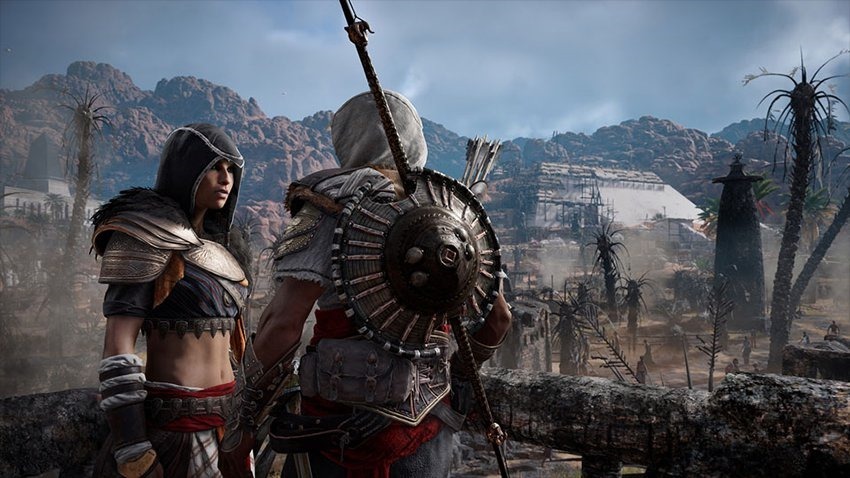 Assassin's Creed Origins is a mighty fine game, even if some of its quests and mechanics can become a bit repetitive. Where it excelled was in storytelling and characterisation– particularly in its portrayal of the relationship between proto-assassins Bayek and his wife Aya. If you enjoyed the story bits of the game and want a little more, then you're probably already set to grab the game's first story expansion, the Hidden Ones.
Out today, the DLC adds a new explorable region, the Sinai Peninsula. It'll also raise the game's level cap and give players new gear to do their killing with. It's available right now, for $9.99, or R159 locally. It's part of the Season Pass too, so if you have that you'll have this. Hooray!
Years after the birth of the Brotherhood, Bayek is called to the Sinaï Peninsula to investigate a clash between a rebel faction and occupying Roman forces. As he seeks to bring peace, Bayek must shape the code that will one day be known as the Assassin's Creed.

This first expansion brings new content to Assassin's Creed Origins with a mission that takes you deeper into the story of the Brotherhood's formation. Explore the beautiful region of Sinaï and meet new characters that will show you a whole new perspective of the Brotherhood.
Improve Bayek with a higher level cap and new gear
Explore a new region – Sinaï and the Red Sea
Find new legendary weapons with special attributes
Customise your assassin with unique outfits and mounts
Assassin's Creed Origins was originally released on October 27, 2017, and is available on PlayStation 4, Xbox One, and Windows PC. The DLC is out right now.
Last Updated: January 23, 2018