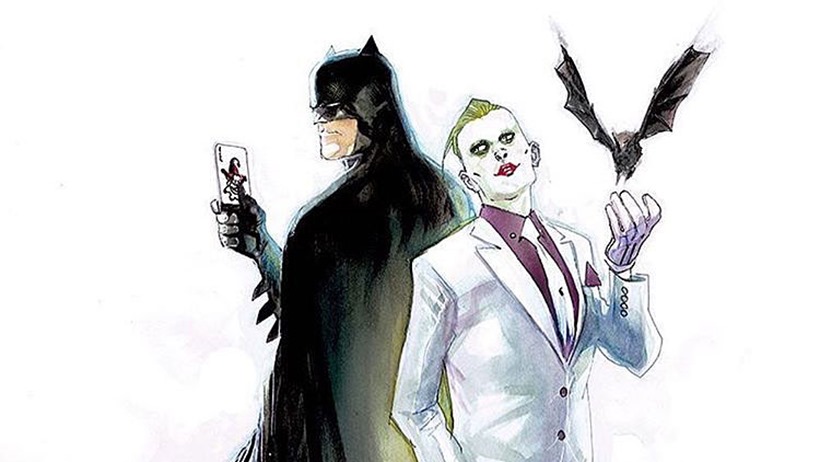 The DC Rebirth is almost here, and with it comes a shift in how stories are built around characters who have been around for decades. And also, a fresh new set of threads. Most of the DC Comics pantheon will all be seen in updated costumes to reflect this attempt to get back to the basics of what makes them tick, but it looks like the ace on knaves will also be sporting another new look after the events of Endgame saw him don a simple black suit and trendy haircut.
Artist Rafael Albuquerque posted the following variant cover for Batman #1, featuring the Dark Knight and the clown prince of crime in back to back action:
While it doesn't explicitly mention this being a Rebirth look for Joker, it's not too much of a leap to make seeing as how he happens to be on the cover of one of DC's best-selling series. So, quick observations: If your Dark Knight Returns senses were buzzing, then you wouldn't be too far off. The simple white suit itself harkens back to that 1986 series, when the Joker wore clothing which picks up bloodstains from Batarangs to the face rather easily.
On the facial side, there's also a heavy passing resemblance to current Joker actor Jared Leto, who'll be popping up in Suicide Squad later this year. Which isn't too much of a stretch considering how Harley Quinn is looking more like her cinematic counterpart these days as well. It's all part of big changes planned at DC, where on a visual level every character is taking heavy inspiration from their film and TV dopplegangers.
Still, one thing is always constant about the Joker at least: He'll always look cool.
Last Updated: May 19, 2016