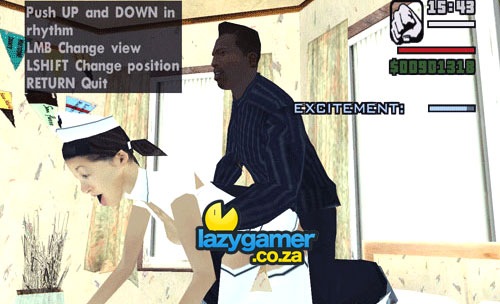 Rockstar's Grand Theft Auto : San Andreas contained, hidden amidst the murder, cop-killing and wanton destruction, a hidden sex mini-game. Proving that censored  pixels rubbing up against other censored pixels is wholly more offensive than those digital enactments of shooting somebody in the face, the "Hot Coffee" scandal as it was then known spurned a class action lawsuit.
Yesterday, that case was settled out of court – and the settlement makes "Hot Coffee" one hell of a pricy cup of java…and I thought Starbucks was overpriced!
The class action suit will be dismissed, following payment by Take Two of $20,115,000 into a fund for class members, which presumably will be spent on bibles, balls of yarn or whatever else it is prudes spend their money on. Take Two will only have to pony up $4,915,000, the rest of it by their unfortunate insurance carriers.
While the case pertains mostly to how the game was marketed, is consensual sex between two fully-clothed digital characters really that bad? Particularly when that content required third party hacking equipment to access on consoles, and a patch on PC?
I know I'd rather engage in a little frottage than be shot in the face with a shotgun, but maybe that's just me.
Source : Kotaku
Last Updated: September 2, 2009